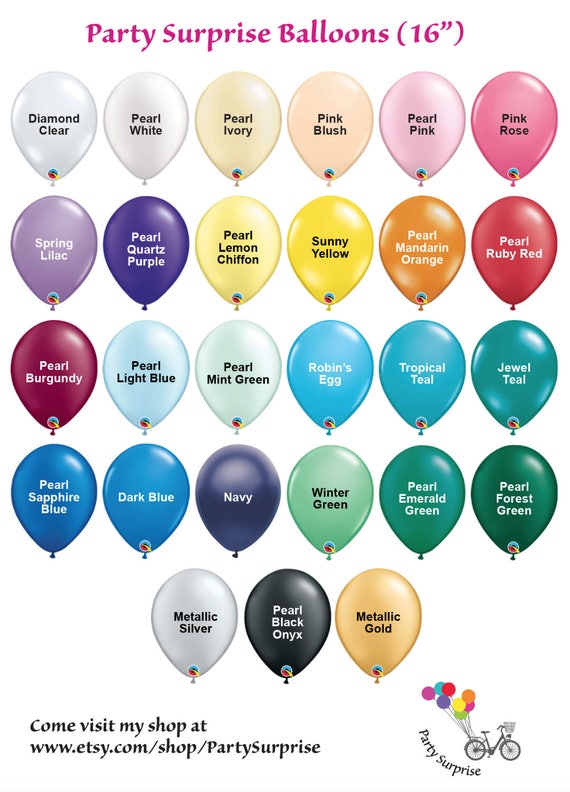 Balloons 16" Black Clear White Blue Navy Red Yellow Gold Silver Blush Mint Pink Blue Teal Rose Ivory Pink Pearl Wedding Party color chart
By Party Surprise, Etsy
Product Info
16" Latex Balloons by Qualatex
Lovely balloons in a large variety of colors.
Navy out of stock.
**************************************
Balloon Information:
* Inflate with helium if you want them to float. They can also be inflated with air but will not float.
* Home helium tanks are not recommended due to the low ratio of helium to air.
* Balloons ship flat/deflated.
**All balloons made in the USA, far superior quality to balloons made outside of the USA.
* Do not leave balloons with children who are unsupervised due to choking and suffocation hazard.
* See my other sizes and color charts:
www.etsy.com/shop/PartySurprise?ref=shop_sugg&section_id=19179873
Photo 3 above is all pearl white balloons.
Use for:
gender reveal (dark colors only)
weddings
photo shoots
baby showers
1st birthday
Bar/Bat Mitzvah
sweet sixteen
birthday parties
*************************************
HOW TO ORDER:
Select your quantities from the DROP DOWNS in the ORDER box.
When checking out, leave a message in the PERSONALIZATION box as to which colors you would like.
Most colors are available in my shop in other sizes such as 5", 11", 30", and 36".
*** Please note that Qualatex NAVY is currently out of stock in the 16" size.
*** Blush is currently not Qualatex, it is Tuff Tex, a great balloon manufacturer in the USA. The color of their blush is truly blush, very pretty.
REVIEWS ON THIS ITEM:
5 STARS, "Great for filling with confetti! Thank you.", Susan, clear balloon
5 STARS, Cynthia
5 STARS, "Wow! These are huge! Love them! Color was spot on! Love how big these get!", Brill
5 STARS, Vanessa
5 STARS, Kate
****************************************
Don't forget your balloons, balloon arch/garland kits, photo prop sets, fancy straws, tableware sets, mini popcorn boxes, Euro gift bags, gift/favor/treat bags, tissue tassel garlands & balloon tails, custom wedding confetti wands, party tableware, disposable cutlery, cake toppers, and cupcake toppers & wrappers - I have what you want!
Balloon color and size charts here:
www.etsy.com/shop/PartySurprise?ref=hdr_shop_menu&search_query=color+chart
Confetti Balloons & Table Confetti:
www.etsy.com/shop/PartySurprise?ref=shop_sugg§ion_id=25395318
Hot Air Balloons:
www.etsy.com/shop/PartySurprise?ref=shop_sugg&search_query=hot+air+balloon
Balloon arches/garlands:
www.etsy.com/shop/PartySurprise?ref=shop_sugg&search_query=garland
Photo Prop Sets:
www.etsy.com/shop/PartySurprise?ref=shop_sugg§ion_id=22959761
Disposable Cutlery:
www.etsy.com/shop/PartySurprise?ref=shop_sugg&search_query=cutlery
Fancy Straws: www.etsy.com/shop/PartySurprise?ref=hdr_shop_menu§ion_id=14449328
Party Tableware:
www.etsy.com/shop/PartySurprise?ref=shop_sugg§ion_id=15478643
Mini Popcorn Boxes: www.etsy.com/shop/PartySurprise?ref=hdr_shop_menu§ion_id=15478643
Tassel Garlands: www.etsy.com/shop/PartySurprise/items?ref=pagination§ion_id=19770755
Custom Number Cards:
www.etsy.com/shop/PartySurprise/items?ref=pagination§ion_id=19936436
Cupcake Wrappers: www.etsy.com/shop/PartySurprise?ref=hdr_shop_menu&search_query=cupcake+wrappers
Cupcake Toppers: www.etsy.com/shop/PartySurprise?ref=hdr_shop_menu&search_query=cupcake+topper