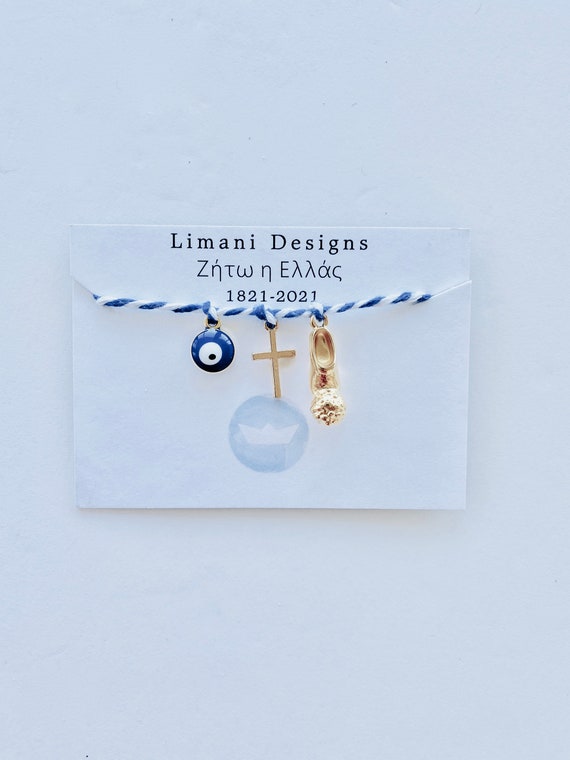 Greek Independence Bicentennial Bracelets The Tsarouhakia ( Tsarouhia ) Collection
By Limani Designs
Product Info
Each year on March 25th, Greeks all over the world celebrate Greek Independence Day. This year will mark the 200th anniversary of Greek Independence Day, 1821-2021. To celebrate this huge milestone, we created these bracelets, wear them to show your love of Greece and all things Greek.
This charm bracelet is inspired by the Evzones. The Greek Presidential Guards or Evzones are a group of elite Greek soldiers who are trained to perform various ceremonial duties. They stand guard at the Tomb of the Unknown Soldier and the Presidential Palace and also raise and lower the flag at the Acropolis every Sunday. The Evzones uniform is handmade with intricate detail, taking many months to complete and is a symbol of the country's nationalistic pride, representing the significant battles fought throughout Greece's modern history. The Farion cap is made from a soft red baize and features a long silk tassel. There are 60 nails beat into the soles of their shoes, tsarouhia, creating the sound you hear every time they take a step. The sound is symbolic, it's made so that our ancestors can hear that we Greeks are alive and free.
These little twisted rope bracelets are meant to be enjoyed daily, tie them and cut access rope. Style them anyway you want, they look great stacked with other bracelets.
Here's to celebrate big this year! Ζήτω η Ελλάς!
xoxo,
Team Limani