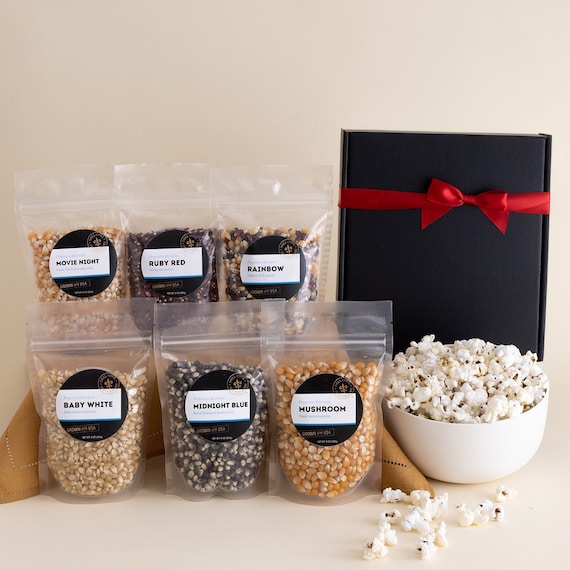 Gourmet Popcorn Kernel Gift Box - Variety set of 6, Non GMO, bulk popcorn
By Dell Cove Spice Co
Product Info
Dell Cove Spice Co.'s popcorn sampler is a delicious gourmet, bulk popcorn variety set to create the perfect popcorn bar or popcorn wedding favors. Try everything with a set of all 6 of our different popcorn kernel varieties grown here in the U.S. by our family and other small family farmers we work with in the Midwest, using sustainable farming practices. Each popcorn pack holds 1/2 pound of popcorn kernels - and the total gift set will make about 192 cups of popped corn. Total volume of popcorn per gift set is 3 pounds (6 half-pound packs).
GET BOX INCLUDES:
CLASSIC MOVIE: large, fluffy popcorn - a classic treat.
MUSHROOM: pops round, perfect for caramel corn.
BABY WHITE: hull-less, tender and a small kernel. A top seller!
MIDNIGHT BLUE: hull-less, slightly sweet, crunchy texture
RAINBOW: colorful mix, fun for a movie night in. A top seller!
RUBY RED: pops white with soft yellow hue. Mix of fluffy and crunchy.
Each bag is resealable - so you can make a little, or make a lot, of popcorn at one time. Each bag makes about 8 quarts (or about 32 cups) of popped corn. Gift set includes directions of how to pop popcorn by stove top. These popcorn kernels will also pop in an air-popper or a commercial popcorn maker.
OPTIONAL ADD ON:
Add a silicone popcorn popper to your gift set to make it easier for dad to make popcorn at home.
Inspired by movie marathons and midnight snacks, our collapsible popcorn bowl provides the immediate satisfaction of microwave popcorn in an eco-friendly, waste-free format.
Our popcorn popper doesn't even require the use of oil, and can easily be accompanied by spices or flavors for unique recipes. Perfect way to pop Dell Cove® popcorn kernels!
This popper is made with premium, food-grade silicone that is 100% BPA-free and LFGB certified, which exceeds the federal FDA standards of food safety. This popcorn popper pops 9+ cups of popcorn — the perfect amount of popcorn for two people (and hey, it's always easy to make more). MICROWAVE & DISHWASHER-SAFE.
Need seasonings to complete your popcorn bar? Follow this link: https://www.etsy.com/listing/71126099/gourmet-popcorn-seasonings-10-gluten
SHELF LIFE: 5 years from purchase.
Any questions, just hit the "Ask a Question" button next to the price and we will get back to you within 24 hours.
Thanks for shopping at Dell Cove Spices & More®!
© 2023 Dell Cove Spices & More Co.®