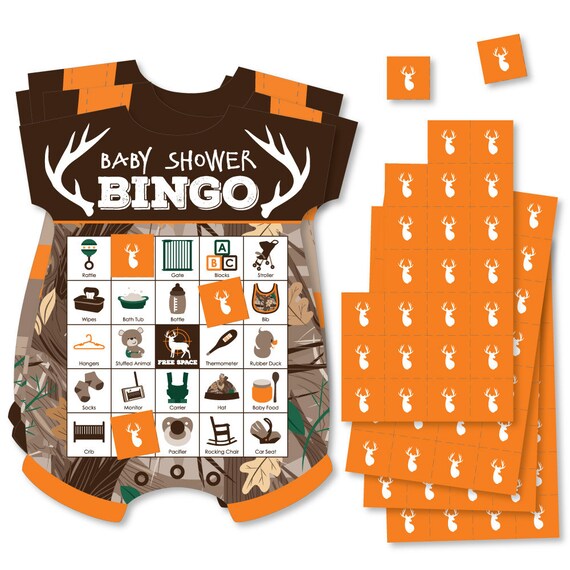 Gone Hunting - Picture Bingo Cards and Markers - Deer Hunting Camo Baby Shower Shaped Bingo Game - Set of 18
By Big Dot of Happiness
Product Info
Gone Hunting - Picture Bingo Cards and Markers - Deer Hunting Camo Baby Shower Shaped Bingo Game - Set of 18
• Set Includes - 18 Baby Bodysuit-Shaped Game Cards, 18 Perforated Marker Sheets, 1 Perforated Call Sheet, and Game Instructions
• Please Note: purchasing multiple bingo games will guarantee multiple winners, there are only 18 unique cards per game package
• Baby Bodysuit Cards Measure 5.25" Wide x 6.75" Tall
• Perforated Marker Sheet Measures 2.75" Wide x 5" Tall – Individual Markers Measure 0.75" Wide x 0.75" Tall
• Professionally Printed, Double-Sided on Sturdy Cardstock Paper
Bingo is an easy party game that everyone will have fun playing. Gone Hunting - Shaped Picture Bingo Cards and Markers give this classic game a fresh look with baby bodysuit-shaped playing cards and baby related pictures instead of numbers. Before you begin to play, designate a bingo leader to pull the included caller chips from a bowl. Hand out one bingo card and one perforated marker sheet to each guest. Have guests fold and tear along the dashed lines of their perforated marker sheet to easily create twenty-eight square markers; which is plenty of markers to allow for full coverage play. Begin to play by the designated bingo leader pulling a caller chip from the bowl. Each guest covers the called picture/word on their card with a square marker. Continue until a guest has covered a row of pictures in any direction – vertically, horizontally, or diagonally and calls out "BINGO!".
See the entire line of Baby Shower Games here:
https://www.etsy.com/market/shower_game_bdoh
See the entire line of Gone Hunting party supplies here:
https://www.etsy.com/market/gone_hunting_bdoh
SHOW OFF:
Share your party pics with us on Facebook & Instagram - we always love to see how Big Dot Hostess Heroes use our party supplies #BigDot #HappyDot
TERMS OF USE:
This item is for personal use only. Big Dot of Happiness retains all rights. This item may not be copied, shared, forwarded, sold or distributed.
Copyright Big Dot Of Happiness, LLC.