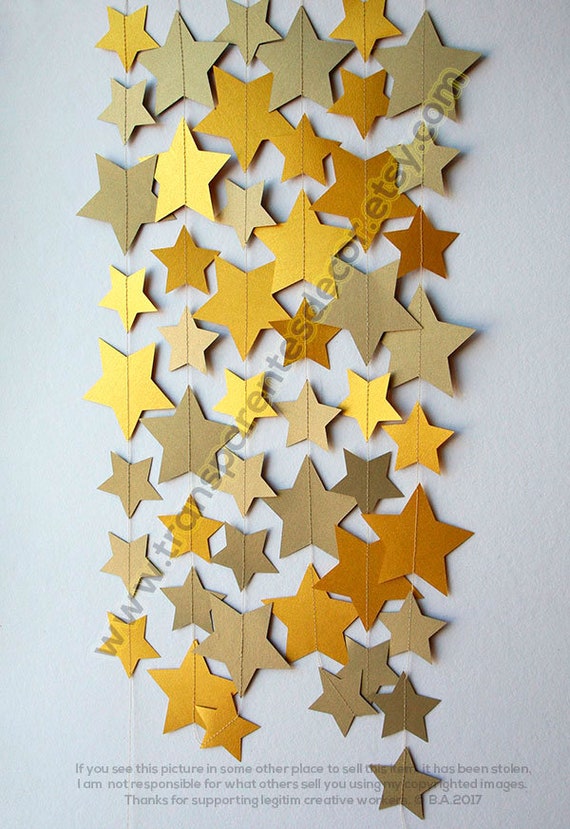 Gold star garland, Gold Wedding garland, Antique gold garland, Wedding decorations, Star Baby Shower, Star garland, Christmas decorations
By TransparentesDecor
Product Info
ONE ORDER = ONE STRAND.
All the pictures in this shop (except sets or specified listings) show ONE SINGLE strand, usually of 10 ft.,15 ft. or 20 ft. displayed making beautiful figures as idea of how you can use your strand. In example, if you chose a 5 ft. long strand, you will need more than ONE to replicate the picture figure. Contact me if you have any question. Thank you!
Star garland in two antique gold colors. After use it as decoration in Weeding reception, Twinkle Twinkle Little baby shower, Christmas, if treated well it can be a beautiful nursery or room wall decor.
★ ITEM DESCRIPTION
In the picture: 1 strand of 10 ft. long made with 2" + 3" stars. You can chose other lengths.
Price per strand of the length of your chose. Please chose length from the drop down menu.
Handmade by order by me.
Color: antique gold and white gold.
★ CUSTOM ORDERS
I can make custom colors, shapes and sizes. Ask me! I'll list an especial order for you.
★ SHIPPING
Ready to ship in 1-3 business days once the payment is received.
Ships properly protected.
Do you want other gold star options?
http://etsy.me/2naP6r6
http://etsy.me/2mBurjv
◘◘◘◘◘◘◘◘◘◘◘◘◘◘◘◘◘◘◘◘◘◘◘◘◘◘◘◘◘◘◘◘◘◘◘◘◘◘◘◘◘◘◘◘◘◘◘◘◘◘◘◘◘◘◘◘◘◘◘◘
★ Please be aware that the photographic process and different screens calibration
depict color variation.
★ If you would like to have other quantity, measures or colors, please convo me.
I love to make custom orders.
★ International orders. Buyer will pay any taxes or costs of customs, if there is some.
◘◘◘◘◘◘◘◘◘◘◘◘◘◘◘◘◘◘◘◘◘◘◘◘◘◘◘◘◘◘◘◘◘◘◘◘◘◘◘◘◘◘◘◘◘◘◘◘◘◘◘◘◘◘◘◘◘◘◘◘
NOTICE.
This item as well as images and text is Copyright © 2017 B.A. TransparentesDecor. All rights reserved. They are protected under US law and their international treaties.
If you see these images to sell this item or this text complete or partially, on other shop or marketplace, it has been stolen.
We are not responsible for what others sell you using our images. Beware of copyright offenders imitations.
Happy decor!