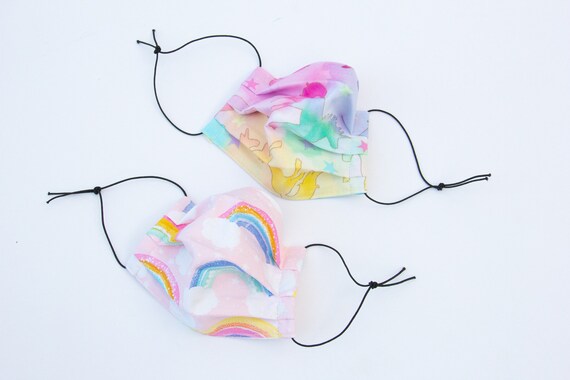 Girls Face Mask | KIDS Face Mask With Filter Layer | Or Adult Face Mask With Filter Layer | Rainbow Face Mask Adult | Reusable Mask
By Superkid Capes
Product Info
These are not the typical masks we make, but they are the masks that are most needed right now.
Our washable, reusable face masks are made in Indiana, USA. These masks ship free all over the USA, and ship in 5-7 days. You are getting ONE mask. You choose the design.
|| MASK DETAILS ||
+ 3 layers of 100% cotton. There is a inner layer, filter layer, and outer layer. (All patterns are 100% cotton).
+ Masks are secured using elastic. Elastic can be attached over the ears, or attached around the back of the head. There is an option to have fabric ties if you would prefer.
+ Masks are one size and pleated to fan out to cover the entire nose and mouth.
+ This mask is meant to be narrower, more centrally located around the mouth and nose for a lightweight, comfortable fit, similar to an N95.
+ There is NOT a nose wire.
|| SIZING ||
+ Child Mask Size: Approximately 5.5 inches by 3 inches, with pleats spread, to about 6 inches.
+Adult Mask Size (Also recommend this size for teens): Approximately 7 inches wide and 3.5 inches in height. When the pleats are spread the mask expands to about 7-7.5 inches wide.
(Select the size when you checkout)
|| MASK FABRIC OPTIONS ||
Pick you favorite pattern at checkout from the last image that has all pattern options. You can see the difference between fabric and elastic ties.
|| PACKAGING AND SHIPPING ||
Each mask is hand sewn by me in my personal studio. Masks are packaged in 5-7 business days and and then shipped first class mail. There is an option to ship priority or express mail via USPS. All orders throughout the USA ship free!
NO RETURNS. Due to the fact that this item touches the face, it cannot be returned.
++ Masks do not claim to prevent disease ++