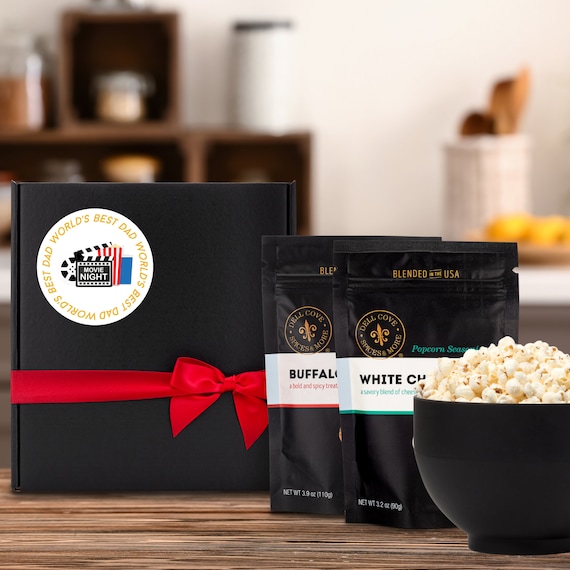 Popcorn Gift Box for Dad - Popcorn gift set with customized popcorn seasoning & popcorn kernels
By Dell Cove Spice Co
Product Info
A unique Christmas gift for popcorn loving dads: Dell Cove® Spices gourmet popcorn and seasonings - a custom flavored popcorn gift set. Create your own customized gift box for dad with 2 (TWO) our hand-blended, small batch spice blends. Also comes with a 1/2-pound bulk bag of movie theater popcorn kernels - proudly grown here in the Midwest! A tasty gift for dads, packaged in a beautiful black gift box with "World's Best Dad" label and tied closed with a gorgeous satin ribbon.
Dell Cove® blends are all gluten-free, non-GMO, with no artificial flavors or preservatives, and produced in small batches.
I LOVE IT! WHAT ARE MY OPTIONS?
Pick 2 (TWO) flavors from our following list of seasonings: Buffalo Wings, Buttery Garlic, Chocolate Caramel, Dill Pickle, Classic Kettle Corn, Salt & Vinegar, Salted Caramel, Spicy Cajun, White Cheddar or White Cheddar Jalapeno.
Each gift set holds enough seasoning for at least 200+ servings. Please see individual spice listings in our shop for nutritional panels and ingredient information of each spice blend. On average, our seasonings are 5 calories or less per serving.
ADD-ON OPTIONS:
Add a silicone popcorn popper to your gift set to make it easier for dad to make popcorn at home.
Inspired by movie marathons and midnight snacks, our collapsible popcorn bowl provides the immediate satisfaction of microwave popcorn in an eco-friendly, waste-free format.
Our popcorn popper doesn't even require the use of oil, and can easily be accompanied by spices or flavors for unique recipes. Perfect way to pop Dell Cove® popcorn kernels!
This popper is made with premium, food-grade silicone that is 100% BPA-free and LFGB certified, which exceeds the federal FDA standards of food safety. This popcorn popper pops 9+ cups of popcorn — the perfect amount of popcorn for two people (and hey, it's always easy to make more). MICROWAVE & DISHWASHER-SAFE.
SHELF LIFE: 3 years from purchase.
We have other spice gift sets in our shop, so please look around. Any questions, just hit the "Ask a Question" button next to the price and we will get back to you within 24 hours.
Thanks for shopping at Dell Cove Spices & More®!