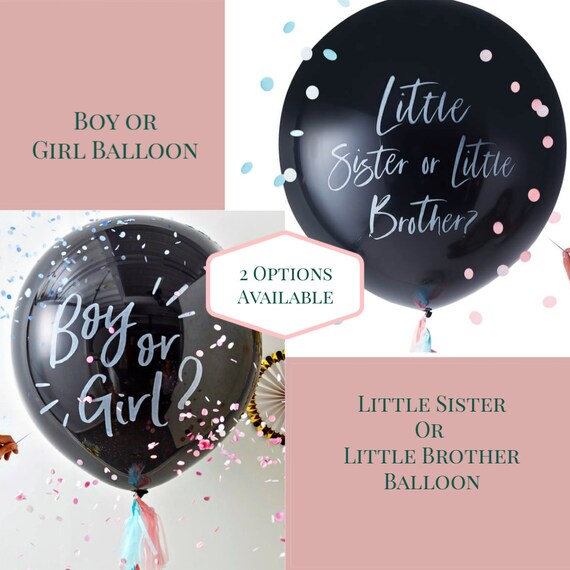 Gender Reveal Balloon Kit , Boy or Girl Confetti Balloon , Pink or Blue, He or She What Will Baby Be
By EnFete
Product Info
Giant "boy or girl?" or "Little sister or Little Brother" balloon for the baby gender reveal! This gender reveal balloon kit is the perfect way to reveal the sex of the little baby. A trendy reveal to let everyone know the baby's gender! THIS IS A KIT! You assemble!
Our gender reveal balloon allows the excitement to build on whether your bundle of joy is a boy or a girl! As you burst the balloon pink or blue confetti will cascade to the ground in a truly spectacular 'Pop'. The most stunning way to reveal the gender of your baby and a moment to treasure - Remember to take lots of photos so the moment will last forever!
Our gender reveal balloon comes with pink and blue confetti - choose which color and YOU pop it inside the balloon. Add the tassels in pink and blue (assembly required, and directions included!) around the string so the reveal remains a surprise until the pop!
TWO CHOICES- Little Brother/Little Sister OR Boy or Girl
Each pack contains 1 - 36" balloon, tassels (2 of each blue and pink with the boy or girl balloon, 1 of each blue and pink with the little sister, little brother balloon), both blue and pink confetti to fill the balloon - and 40 inches (L) clear string for the tail.
Price is for ONE Balloon. Please select the total number you need!
Balloon floats with helium only, will not float if filled with plain air OR if not fully inflated to the full size. 
Complete your whole party with EnFete – browse the shop to find matching boutique party supplies – everything from cups and plates, to banners and balloons. Everything you need to put together a perfectly coordinated party.
Subscribe for updates, party tips, and free printables at: