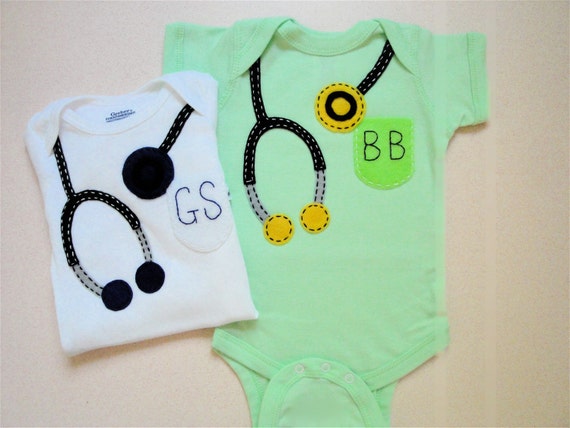 Product Info
mint green or white bodysuit "scrubs" that have a stethoscope wrapped around the neck and a pocket perfect for monograms, if desired. 100% cotton baby bodysuits, hand-stitched and personalized to your specifications. All appliques are hand cut and stitched, so there will be slight variations that make each unique and personal. I have a wide selection of colors to use for the mouth and ear piece, It is not limited to the ones shown.
Green (short sleeve only)- newborn, 6m, 12m
Colored bodysuits (Rabbit Skins Brand) Size Chart is approximate
NB Age 0-3 month, 18-21 inches, 5-9 pounds
6M Age 3-6 month, 22-24 inches, 10-16 pounds
12M Age 6-12 month, 25-28 inches, 17-20 pounds
White bodysuits in 0-3m (8-12 lb), 3-6m (12-16lb), 6-9m (16-20lb), 12m (20-24lb) available in long and short sleeves.
Please provide the following:
1. color of earpieces and chest piece
2. optional pocket with initials
*********************
Expedited service is available for 2 day processing at: https://www.etsy.com/listing/120144622/rush-order-add-on-service?
For more ideas and promotion codes, please follow me on facebook and instagram @elliesheapics
Feel free to message me with any questions you may have so we can build your perfect gift, I love custom orders!