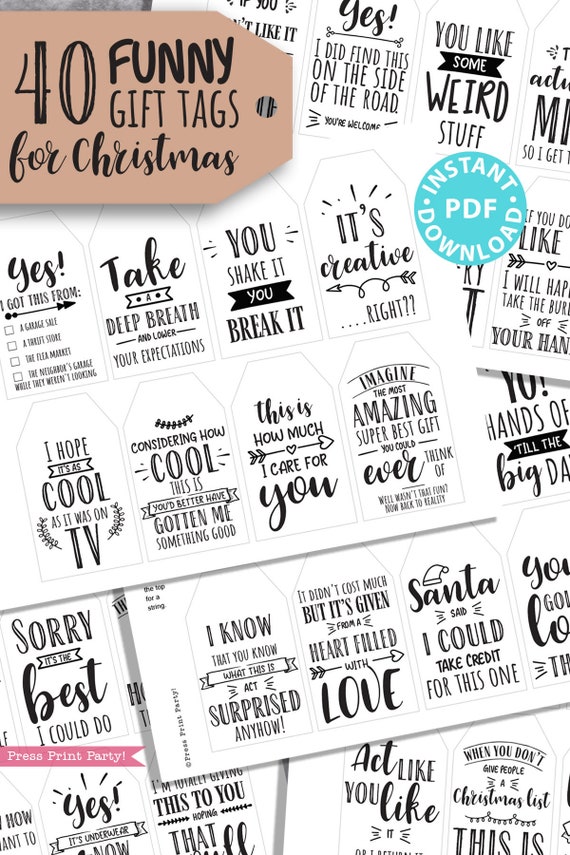 40 Funny Christmas Gift Tags Printable, White Elephant, Rustic Style Gift Tags, Sweet, Sarcastic, Clean, Unique Gift Tags, INSTANT DOWNLOAD
By Press Print Party!
Product Info
Make people giggle this year when they read your gift tag. Also perfect for a white elephant gift exchange.
• 40 UNIQUE sayings included. All funny or sweet and no bad language. Written by us.
• SAVE MONEY: Print as many as you'd like for one low price.
• SAVE TIME: Download and print instantly.
• Pretty RUSTIC Style - Print on white or Kraft Cardstock.
• Print a "To:" and "From:" design on the back.
INSTANT DOWNLOAD!! OPEN NOW WITH THE LATEST VERSION OF ADOBE READER DC!! PRINT AT HOME!!
---------------------------------------
FILE INCLUDES
---------------------------------------
► 5 Letter-size (8.5"x11") Pages of unique tags. 8 tags per page. Tags are about 2"x3.75"
► Backing for Tags with "To:" and "From:"
Sayings are:
• A little birdie told me you might like this.
• Act like you like it or I return it tomorrow.
• Consider yourself lucky. I nearly kept this for myself.
• Considering how cool this is. You'd better have gotten ME something good.
• Don't go peekin'!! It's the Christmas law.
• I don't even remember what this is.
• I hope it's as cool as it was on TV.
• I hope you like it because I can't take it back.
• I still don't understand why you'd even want this.
• If you don't like it I will happily take the burden off your hands.
• If you don't like it you can always give this to me.
• If you'd made a Christmas list I might have bought you something you'd like. Instead, you're stuck with this!
• I'm not telling you what I had to do to get this.
• I'm totally giving this to you hoping that you'll give it right back to me.
• I'm totally cool with you pretending that you like this.
• Imagine the most amazing, super best gift you could EVER think of. Well wasn't that fun? Now back to reality.
• In case you're wondering. Yes, I did buy one for myself.
• It didn't cost much but it's given from a heart filled with love.
• It's a good present just because I gave it to you.
• It's creative, ....right??
• Mediocre mystery gift.
• Santa said I could take credit for this one.
• Santa said you deserved coal so be grateful you got anything.
• Sorry, it's the best I could do.
• Take a deep breath and lower your expectations.
• They didn't have your size. Hopefully, this will do.
• This is actually mine so I get this back.
• This is how much I care for you.
• We might want to open this up in private
• When you don't give people a Christmas list this is what you get.
• Yes, it is underwear. Now stop trying to peek.
• Yes, I did find this on the side of the road. You're welcome!
• Yes, I know how badly you want to open it early and I'm sorry the answer is no.
• I know that you know what this is. Act surprised anyhow!
• YO. Hands off 'til the big day.
• You like some weird stuff
• You only get this if you promise to share.
• You're going to LOVE this!!!
• You shake it, you break it.
• Yes, I got this from (check boxes)
a garage sale
a thrift store
the flea market
the neighbor's garage while they weren't looking.
---------------------------------------
HOW IT WORKS
---------------------------------------
Just so we're clear. You won't receive any physical product in the mail.
1. INSTANTLY DOWNLOAD YOUR FILES
The file is available for immediate download after payment. Just follow the link to your Etsy download page (or find it on your Etsy Purchases page) and click on the Download Now button.
2. OPEN YOUR FILES IN ADOBE READER
Adobe Reader is available for FREE on the Adobe website: http://get.adobe.com/reader/
3. CHOOSE YOUR PAPER
All of the printables in my shop (unless specifically stated) are meant to be printed on 8 1/2" x 11" or A4 white card stock (80lb-110lb). You can find white card stock at any office or big box store (like Walmart).
4. PRINT YOUR FILES
These printables are meant to be printed at home. Any black and white inkjet printer will give very nice results. Print as many as you'd like.
If you'd like, you may take your file to an office store and use their computers and printers.
*Unfortunately I DO NOT offer a print and ship service and only supply the digital files.
5. CUT YOUR DESIGNS
Trim/cut out using scissors, craft knife, paper trimmer or punch. Some designs may need assembling. All my printables come with detailed instructions.
---------------------------------------
FAQs
---------------------------------------
For any more questions, please check out the FAQ section down below. I'm also always here to help.