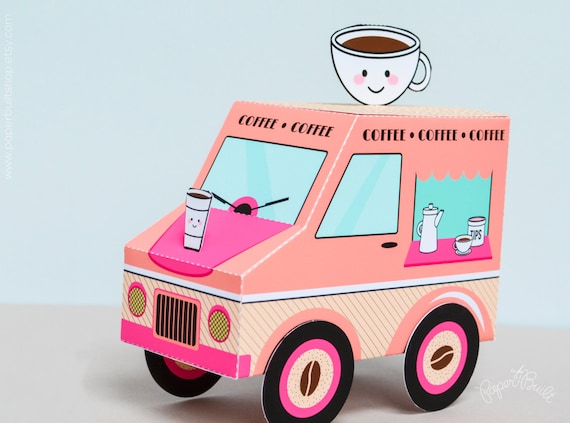 Food Truck, Gift Card Holder, Gift Card Box, Party Favor Box, Wedding Favor Box, Donut Party, Cupcake Box, Unique Wedding Favor, Donut Craft
By Paper Built
Product Info
This listing is for a PDF of our custom Coffee and Donuts Food Truck. It comes with two different wheels (donuts and coffee beans), (3) hood ornaments (donut, coffee bean and tall coffee cup), and (2) ornaments for the top of the truck (coffee cup and donut). It also comes with trays for a donut, a cupcake, and a gift card. And the best part is the text is ALL editable, so you can add your own menu, license plate, and wording around the top.* There are so many ways you can style the truck!
The PDF can be downloaded directly from Etsy once payment has cleared. Nothing will be emailed or shipped to you! Instructions for downloading can be found here: https://www.etsy.com/ca/help/article/3949.
You may print the PDF file as many times as you wish for your own personal use. Get crafty!
− − − − − − − − − −
WHAT YOU GET
− − − − − − − − − −
All sheets in this set are formatted to 8.5x11 sheets of paper (letter size). The designs do not exceed 8"x10.5" so international customers should not have an issue printing on A4 paper.
The set includes:
• Instructions
• A food truck split into two pieces. The truck has EDITABLE text which must be edited in Adobe Reader.
• Each truck needs (8) wheels. Choose between a donut or a coffee bean wheel. The wheels can be easily cut with a 2-inch circle punch.
• Hood ornaments (optional). Choose from a donut, a tall coffee cup, or a coffee bean.
• Ornaments for the top of the truck (optional). Choose either a donut or a coffee cup.
• A gift card tray (optional)
• A donut tray (optional)
• A cupcake tray (optional)
− − − − − − − − − − −
MEASUREMENTS
− − − − − − − − − − −
• The food truck (without wheels) measures about 6 1/8" W x 4 1/8" H x 3 1/8" D when assembled.
• The gift card tray measures about 4" W x 3" H x .75" D. It holds a standard gift card.
• The donut tray measures about 6" W x 3" H x 1" D. It has an opening about 3 3/8" W x 1.5" H. It fit the large donuts available at supermarkets.
• The cupcake tray measures about 6" W x 3" H x 1" D. It has a 2.25" circular opening. It fits a regular cupcake.
− − − − − − − − − − −
WHAT YOU NEED
− − − − − − − − − − −
• The latest version of Adobe Reader which can be downloaded for free at http://get.adobe.com/reader
• A computer. Our PDFs do not work properly on smartphones or iPads etc. You must also use a computer to edit the Food Truck in Adobe Reader
• A color printer, or access to a color printer at a copy center, office, or friend's house
• 8.5x11 (letter) heavy weight plain paper. We HIGHLY recommend matte photo paper
• Cutting tools (scissors and/or craft knife and a 2- inch circle punch for the wheels)
• Scoring tool (empty pen and/or bone folder)
• Adhesives (glue or double-sided tape)
PLEASE NOTE: Our PDFs are password protected. You will be unable to open the file in programs like Adobe Illustrator or Photoshop, copy the elements, or change the elements. If you would like to print the file(s) at a local print center, you will need to bring the file into the print shop on a flash drive or CD, or email it to them; you will be unable to upload the file to Staples.com's online print center, or similar websites.
* The text underneath the coffee cup and donut that reads "A Perfect Pair" is not editable.
− − − − − − − − − − − − − − − −
TERMS AND CONDITIONS
− − − − − − − − − − − − − − − −
Simply put, we want you to use our files to create your own masterpieces. You may print the file as many times as you wish. Have fun with our products - even craft extras to give as gifts!
By purchasing from Paper Built's store you agree to the following terms and conditions:
• Please do not share the PDF file(s) with others. Kindly direct admirers to our shop - we would love to reward your referral with a gift!
• Please do not sell our PDF file(s) to anyone.
• Please do not sell item(s) created with our PDF file(s).
• Please do not use item(s) created with our PDF file(s) in your business. We offer very reasonable commercial licenses for an additional fee if you would like to use our products in a limited basis in your business.
This product is © Paper Built. Copyright is not transferred to purchaser. All rights reserved.