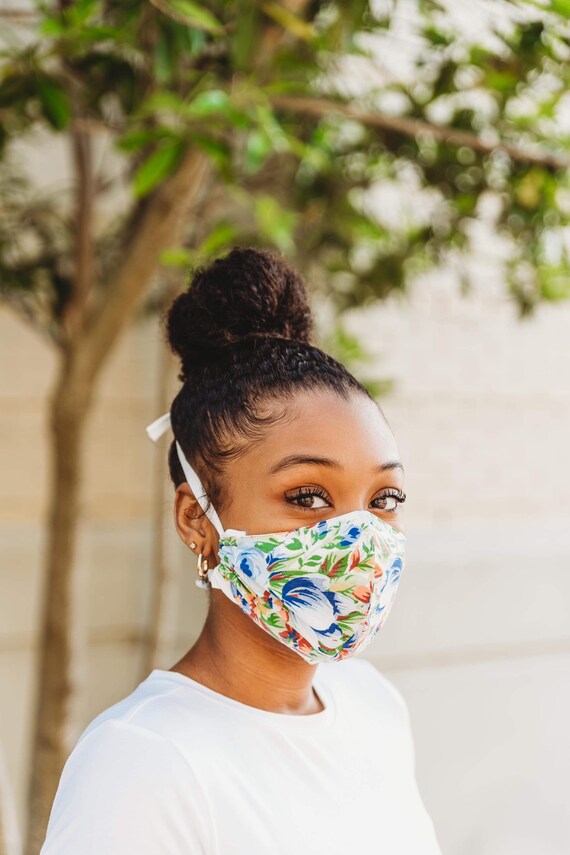 Floral Print Double Layer 100% Cotton Face Mask with Filter Pocket - Cloth Mask - Washable and Reusable - Made in the USA - Fast Ship
By The Patriotic Princess
Product Info
These floral face masks are perfectly pretty, breathable, and suitable for everyday wear.

Each mask is handmade using two layers of 100% cotton fabrics and features an added pocket for a filter.

OPTIONAL: The filter I offer is made using non-woven medical-grade fabric cloth from Fleishman supplies. Adding a non-woven filter to your mask provides additional protection and is highly recommended.

♥ MAKING A DIFFERENCE ♥
For every mask sold, (2) face masks are donated to nurses, doctors, and medical staff who need them most. Together, we've donated over 150 masks. With your purchase, you're helping to supply masks to medical staff who need them most - thank you!
FEATURES
- Added filter pocket
- Optional nonwoven fabric filter
- Adjustable elastic
- Fast USPS shipping!

This mask is available in four sizes and provides adjustable elastic for a custom fit.

All masks are shipped via USPS. Please see my processing and shipping times for your estimated delivery date.

Should you have questions, please feel free to reach out. Stay healthy!

-Keena
Legal Medical Disclaimer: THIS IS NOT A MEDICAL GRADE MASK. THIS MASK DOES NOT REPLACE PPEs AND SHOULD NOT BE COMPARED TO N95 MASKS. THIS MASK IS MEANT TO BE USED AS AN ADDED SAFETY MEASURE BUT SHOULD NOT BE CONSIDERED GUARANTEED PROTECTION FROM VIRUSES OF ANY KIND.