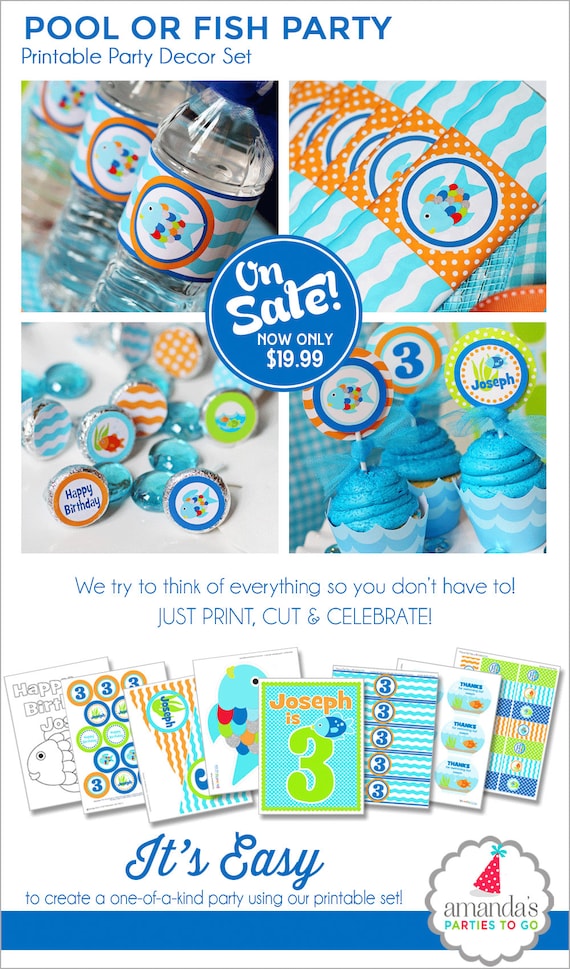 Pool Party Decorations | Under the Sea Birthday | Rainbow Fish Birthday | Ocean Birthday | Sea Life Summer Birthday | Amanda's Parties To Go
By Amanda's Parties To Go
Product Info
Pool Party -- Rainbow Fish Birthday Party Decorations (Printable files)
ON SALE Now Only $19.99!
❚❚❚❚❚❚❚❚❚❚❚❚❚❚❚❚❚❚❚❚❚❚❚❚❚❚❚❚❚
WHAT YOU ARE PURCHASING:
❚❚❚❚❚❚❚❚❚❚❚❚❚❚❚❚❚❚❚❚❚❚❚❚❚❚❚❚❚
►Fish Pool Party Decorations (printable files) with fun colors like turquoise, orange, apple green and blue, this package is perfect for both boys and girls! ON SALE Now Only $19.99!
►Please include NAME & AGE under notes to seller at check out.
►PDF files will be sent to your ETSY Email. No items are shipped in the mail.
❚❚❚❚❚❚❚❚❚❚❚❚❚❚❚❚❚❚❚❚❚❚❚❚❚❚❚❚❚
Choose turn around time at check out!
❚❚❚❚❚❚❚❚❚❚❚❚❚❚❚❚❚❚❚❚❚❚❚❚❚❚❚❚❚
►Rainbow Fish Invitation Set Sold Separately HERE: http://etsy.me/1Alz0it
►Buy A la Carte Party Pieces HERE: http://etsy.me/1xpz3IO
(Package prices reflect an 85% discount)
❚❚❚❚❚❚❚❚❚❚❚❚❚❚❚❚❚❚❚❚❚❚❚❚❚❚❚❚❚
INCLUDED with the Rainbow Fish Pool Party (Printable) Order:
(No changes can be made)
❚❚❚❚❚❚❚❚❚❚❚❚❚❚❚❚❚❚❚❚❚❚❚❚❚❚❚❚❚
● 2" LOGOS: 4 Designs: NAME --AGE --Fish -- "Happy Birthday"
● 2.5" BACKGROUND CIRCLES: go behind 2" logos for cupcake toppers
● CUPCAKE WRAPS: 2 designs -- Ocean waves & turquoise dot
● 2.75" FISH CUT OUTS for games, tags or cupcake toppers
● 2" FISH LOGOS: squares
● 2" FISH FOOD Circles
● 1" LOGOS: Fish
● PARTY HAT
● PERSONALIZED COLORING PAGE: "Happy Birthday NAME"
● 5" CENTERPIECE CIRCLES: 4 designs: NAME -- AGE -- Fish -- "Happy Birthday"
● DRINK WRAPS: 2 designs: Age -- Fish
● BANNER: "Happy Birthday NAME"
● TREAT BAG TOPPER: fit 4"x6" ziploc bags-- "Thank you for swimming by!"
● DOOR SIGN: "Welcome! It's so good to SEA YOU!" -- 8.5"x11"
● DOOR SIGN: "NAME is AGE", "Welcome, It's So Good to SEA You!," "I hope you had a FIN-TASTIC time!'" "Go Fish," "Pin the Scale on the Fish," "Fish Hand Art," "Face Painting," "Fish Race," "Gone Fishing"
● PARTY SIGNS: "Happy Birthday" in 4"x6" and 5"x7"
● BLANK fold over label cards for placecards or write-in buffet items
●12 FOOD LABELS: Tent Cards with the following wording: (Sea Water, Fish 'n Chips, Fish Cakes, Swedish Fish, Fruit, Fish Bait, Pasta Shells, Fish Sticks, Seaweed, Seaside Sandwiches, Cookies, Goldfish)
►NOTE: Up to 12 Custom Food Labels (your own food names) sold for $8.00 here: http://etsy.me/1DHfC1y
● 2" FOOD LABEL CIRCLES: Blank
● 2" FOOD LABEL CIRCLES: 30 wordings: (Marshmallows, Rock Candy, Salt Water Taffy, Sixlets, Lollipops, Cake Pops, Frosting, Ice Cream, Gummies, Chocolate Syrup, Caramel Syrup, M&M's, Sprinkles, Chocolate Chips, Crushed Oreo, Brownies, Cookies, Seaweed, Goldfish, Rainbow Fish, Swedish Fish, Shark Bait, Shells, Starfish, Donuts, Sandwiches, Fish n' Chips, Fruit, Kisses, Candy Bars)
● PILLOW BOX
● FAVOR TAGS: "I had a WHALE of a time! NAME"
● 4 CENTERPIECE PENNANTS: "Happy Birthday"--NAME --AGE -- Fish
● 4 FISH CUT OUTS: approximately 10"
● FISH CUT OUTS: approximately 5-6"
● SEAWEED CUT OUTS: approximately 10"
● SEAWEED CUT OUTS: approximately 7"
● AQUARIUM CUT OUT: approximatey 8"x9"
● RAINBOW FISH CUT OUTS: approximately 6"
● NAPKIN OR BUBBLE WRAPS
● TOOTHPICK/STRAW FLAGS: orange, royal blue & turquoise
● FULL SIZE CANDY BAR WRAPS
● MINIATURE CANDY BAR WRAPS
● HERSHEY KISS CIRCLES: (to use with a 3/4" circle craft punch)
● COORDINATING PAPERS: Printable papers in 5 designs
►FONDANT CUPCAKE TOPPERS in above photos by Edible Details, an online Fondant Cupcake Topper shop. Some party photos and styling by Crissy's Crafts.
❚❚❚❚❚❚❚❚❚❚❚❚❚❚❚❚❚❚❚❚❚❚❚❚❚❚❚❚❚
IMPORTANT TO KNOW:
❚❚❚❚❚❚❚❚❚❚❚❚❚❚❚❚❚❚❚❚❚❚❚❚❚❚❚❚❚
►Your purchase indicates you have read and agreed with this shop listing and shop policies HERE: http://etsy.me/1BS5f6B
►This printable party set will be sent exactly as described above with NO CHANGES other than the NAME and AGE customizations described.
►All files are in ENGLISH and cannot be typeset in another language. NO COLOR CHANGES CAN BE MADE. You may print as many designs as you need for your own personal use.
►You will need ADOBE reader to open a pdf -- FREE DOWNLOAD HERE: http://get.adobe.com/reader/
►Files are sent ready to print and are NOT EDITABLE.
❚❚❚❚❚❚❚❚❚❚❚❚❚❚❚❚❚❚❚❚❚❚❚❚❚❚❚❚❚
HOW TO CHECK OUT:
❚❚❚❚❚❚❚❚❚❚❚❚❚❚❚❚❚❚❚❚❚❚❚❚❚❚❚❚❚
1. Place your order and submit payment.
2. Include personalized information under NOTES TO SELLER at checkout: NAME & AGE of your child.
3. You will receive your files usually within hours if payment & all needed information is received (unless there are internet connectivity issues).
4. Print files at home onto photo paper or brochure paper or you may print at a printer such as Office Max or Office Depot.
❚❚❚❚❚❚❚❚❚❚❚❚❚❚❚❚❚❚❚❚❚❚❚❚❚❚❚❚❚
MATERIALS YOU WILL NEED:
❚❚❚❚❚❚❚❚❚❚❚❚❚❚❚❚❚❚❚❚❚❚❚❚❚❚❚❚❚
Printer
Photo Paper or brochure paper
Scissors
2" & 2.5" circle craft punches (optional - make cutting cupcake toppers easy)
Hot glue
Tape
Ribbon or twine for signs, cupcake toppers, banner
Wood dowels/skewers for centerpiece signs
Lollipop sticks or white coffee stirrer straws for cupcake toppers
❚❚❚❚❚❚❚❚❚❚❚❚❚❚❚❚❚❚❚❚❚❚❚❚❚❚❚❚❚
THE FINE PRINT
❚❚❚❚❚❚❚❚❚❚❚❚❚❚❚❚❚❚❚❚❚❚❚❚❚❚❚❚❚
These Pool Party Rainbow Fish Birthday Decoration files are for PERSONAL USE ONLY. You may not share or forward these files to anyone else or use them commercially or for profit. All Rights Reserved 2017 Amanda's Parties To Go. You may NOT use my photos in any form.
❚❚❚❚❚❚❚❚❚❚❚❚❚❚❚❚❚❚❚❚❚❚❚❚❚❚❚❚❚
FIND US ON THE WEB!
❚❚❚❚❚❚❚❚❚❚❚❚❚❚❚❚❚❚❚❚❚❚❚❚❚❚❚❚❚
B L O G ::: www.amandaparkerandfamily.blogspot.com
F A C E BO O K ::: http://facebook.com/amandaspartiestogo
P I N T E R E S T ::: https://www.pinterest.com/amandasparties
E M A I L ::: amandaspartiestogo[at]gmail.com
❚❚❚❚❚❚❚❚❚❚❚❚❚❚❚❚❚❚❚❚❚❚❚❚❚❚❚❚❚
SHOP HOURS FOR SENDING ORDERS & ANSWERING EMAILS:
MON-FRI 8am - 5pm CST
Weekends Occasionally
Order Anytime
❚❚❚❚❚❚❚❚❚❚❚❚❚❚❚❚❚❚❚❚❚❚❚❚❚❚❚❚❚