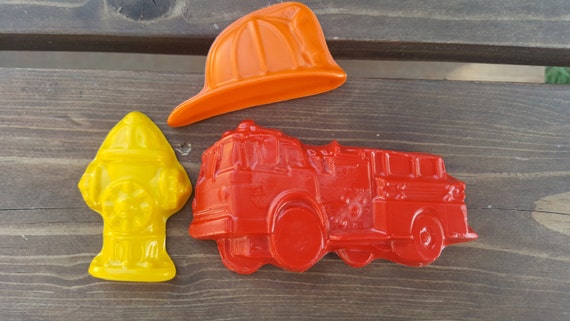 Fireman Crayons - Fireman Party Favors - Fireman Birthday Party - Kids Party Favors - Gifts For Kids - Class Party Favors - Kids Gifts
By KagesKrayons
Product Info
Due to a very busy Easter season, I am no longer able to guarantee delivery before Easter. All new orders will ship in 7-10 business days. Thank you SO MUCH for supporting my colorful shop during these uncertain times. I am so humbled by all of the love and support I have encountered these past few weeks.
This awesome set of Fireman Crayons is made from 100% non toxic crayons. They are perfect for party favors, classroom favors, gift giving, or just to have! The measurements are:
Fire Truck - 3" x 2"
Fire Hydrant - 2" x 1.25"
Fireman Hat - 2.25" x 1"
You will receive equal parts of the fireman crayons in an assortment of colors. (The colors will be different than pictured. You will receive an assortment of different shades of Red, Blue, Green, Yellow, Orange, Black, Brown, Pink, and Purple. )
Check out all of our crayons in the shop! There is a little something for everyone!
KagesKrayons.Etsy.com
Each crayon is individually packaged in a small resealable bag
If you need more or less crayons than listed, feel free to message me for a custom order!
***not intended for children under 3***
Be sure to "Like" our facebook page for updates on new items, giveaways, coupon codes and more!
www.facebook.com/KagesKrayons
Stay connected with us at www.KagesKrayons.com,
@KagesKrayons on Instagram, and KagesKrayons on Facebook