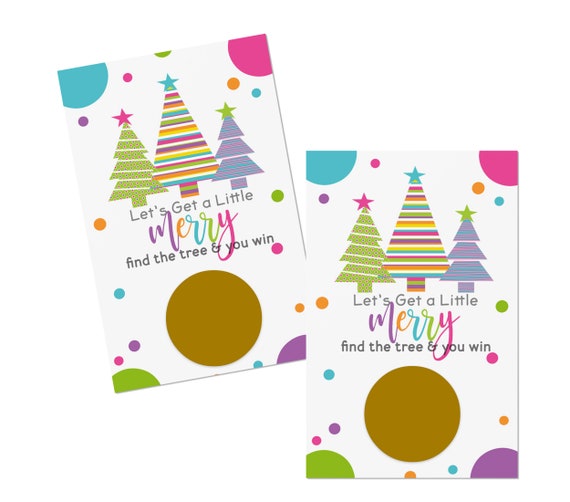 Colorful Trees Scratch Off Cards (30 Pack) Christmas Party Game Holiday Raffle Ticket for Drawing Prizes - Festive Fun Scratcher Favors
By Paper Clever Party
Product Info
Features:
• Colorful Trees Scratch Off Game Cards: Pack INCLUDES 30 scratch off cards with 25 "Losing Cards" + 5 "Winner Cards". Festive trees Christmas scratch off game cards is a fun holiday party game that adults, kids, and groups will have some fun playing.
• Fun Christmas party games: gingerbread scratch off game is 2"x3.5" inches, business card size. Jolly themed holiday scratch off cards bagged separate so it is easy to know how many prize winners you want to have for your Christmas party game.
• Premium Party Supplies: gingerbread scratch-off cards professionally printed on durable, high-quality glossy cardstock paper. Christmas scratch off cards printing is a brightly colored holiday game design. The losing and winning scratch cards packed separately. Colorful trees scratch off games arrive ready to play with family, friends, and coworkers at your Christmas party.
• Merry, quick, and fun: play with other Christmas party game - use as Christmas raffle ticket for game - groups drawing prizes - at each Christmas party table - hand-out to guests to scratch off upon arrival - a quick mini Christmas party game. Scratch-offs are a favorite to start conversation - fun office holiday party game. Colorful trees scratch cards offer different ways to amuse your guests.
• Made in the USA: Because quality matters and we think parties should be fun! Our colorful trees Christmas scratch off cards are USA MADE and hand-packed with care at our Pennsylvania facility.
Details:
Get a little merry during your Christmas party with our colorful trees scratch off game cards. Whatever type of holiday party you're planning engage all your guests. These colorful Christmas scratch off cards make great Holiday raffle tickets for game prizes. Our brightly colored and festive Christmas scratch off cards is always a holiday party game favorite. With holiday scratch off games adults, family, kids, and groups off all ages can enjoy playing. Get everyone in on the holiday vibe with colorful trees Christmas scratch games. A new and exciting activity for this holiday season. With 30 Christmas scratch game cards easily entertain family and friends. Know what you're getting with our scratch off game pack. Pack includes 25 losing and 5 winning scratch offs. No confusion, our holiday scratch off cards are bagged with winners separate in the pack. Each Christmas scratch off measures 2" x 3.5" inches, business card size. Christmas scratch off arrive ready to play with a permanently placed gold seal. Bring out the holly as guests try their luck scratching the Christmas scratch card competing for game prizes. Christmas scratch off cards will have every person joining in on holiday party game fun. Colorful trees scratch off game cards offer so ways to play. Ideas include - adult Christmas games - part of your Christmas party decorations, Thanksgiving games, holiday raffle tickets for drawing prizes, and more. With our colorful trees Christmas party game scratch off cards you can get creative and have a great time! Because quality matters Paper Clever Party scratch offs are designed, printed, and packed in the USA. Scratch off Christmas activities from your party game to-do list.