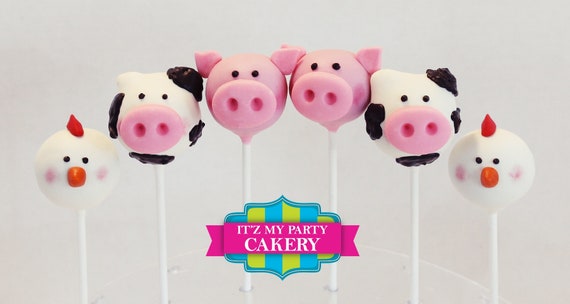 Product Info
Shipping cake pops to prevent melting during the summer months of May-Sept. starts at $19.50. If you are ordering more than 1 dozen, there is a slight increase per dozen. Your cake pops will be shipping in an insulated container with cold packs.
One dozen Farm Animal Cake Pops - 1 dozen (12 total) 4-Chickens 4-Cows 4 Pigs
Although we try to make our products match our listings, there may be slight variations with shape, color and detail for each individual cake pop, as they are each individually hand-sculpted dipped and finish decorated.
Cake pop information:
How I make my cake pops:
My cake pops are made from completely baked cake. When the cakes are cooled and rested, the cake is mashed until smooth. The cake is then measured out for consistency (usually 10 ounces per pop which gives a 3/4" - 1" size cake ball) and then hand-rolled and/or shaped for specific designs. Please note: I do NOT bake cake balls and then dip them in chocolate. Those are NOT "real" cake pops. Cake pops should have an "in the middle soft chewy brownie texture" to them. Mine do. Please do not mistake this for unbaked raw cake, as this is not at all what it is.
I may add any of the following to your cake pop mash; based on flavor profile and request: vanilla or flavored buttercream, chocolate ganache, fresh fruit pieces, candy tidbits, cookie crumbles, sprinkles, etc.
I may add any of the following to your cake pop design: chocolate, fondant, modeling chocolate, gum paste, candy pieces
Because your cake has been dipped in chocolate, please be aware of this. The cake under your chocolate reacts to heat and cold which equates to expanding and contracting. Chocolate does not expand and contract like cake does. Because of this, we ask you to keep your pops as close to a normal room temperature (typically between 65-75). This will most often ensure your cake pop will not be affected by the cake expanding and/or contracting which can sometimes crack or break your chocolate around the pop. In addition, we do not recommend refrigeration or freezing, as this will not only adversely affect the pop, but may also cause excessive sweating while being refrigerated/frozen and then coming back to room temperature. Please note: We cannot control how pops are handled once they leave our hands. We do not refund or replace or credit for cake pops if something should happen to them after they leave our hands.
CAKE POPS HAVE A VERY SHORT SHELF LIFE OF APPROX. 5-7 DAYS from the day they were made. We make and decorate everything fresh to order and within 24-48 hours of pick-up/delivery.
PLEASE MAKE SURE TO INFORM YOUR GUEST(S) THAT CONSUMING THE POP AS CLOSE TO THE EVENT IS ADVISED.
We will not be held liable for any person, guest, family member, associate, etc becoming sick from consuming the pop beyond the recommended 5-7-day window.
We recommend having these shipped out no earlier than 2-3 days prior to your event, as they are a perishable food item. Our cake pops have been successfully shipped everywhere in the United States.
During the months of May through September, we may ADD $12 additional shipping charges (this may vary based on the weather) to cover the cost of required ice packs. This is to ensure your order stays cool and intact in the warmer climate during shipping.
ALLERGY WARNING: Our items are prepared and baked in a kitchen where products containing nuts and peanuts are used. Our items may contain trace amounts of nuts