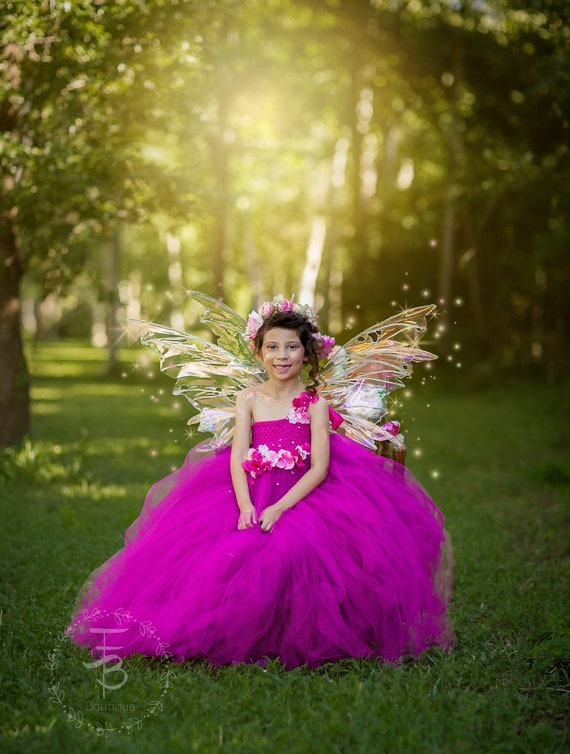 Fuchsia Tutu Dress, Flower Girl, Jr. Bridesmaid, Birthday, Wedding, Fairy Tutu Dress, Fairy Party, Pink Fairy Dress, Fairy Dress
By Floppy Bunny Boutique
Product Info
"Fairy Collection"....Our Meadow tutu dress in fuchsia features our signature empire bodice and made with premium quality made in the USA tulle. DRESS IS FULLY LINED so there's no need for a slip. Tulle is hand tied directly onto crochet band. Tutu dress features fuschia bodice lined in shocking pink and embellished with hydrangea petals in shades of pink, giving dress a whimsical effect. Shoulder strap is hand stitched onto bodice, adjustable and ties into a bow for a comfortable fit. Bodice front is also lightly sprinkled in acrylic rhinestones. Every little girl dreams of being a fairy and this dress will make that dream come true.
- Eggplant dress can be added here.... https://www.etsy.com/listing/162345481
Available in (TL) Tea Length / mid-calf , (FU) Full Length / touching the ankle, (FL) Floor Length / covering shoe.....
***Your child's height will determine where the length actually falls.
6 months....(C)17'' (TL)15'' (FU)18'' (FL)20'' ….$80.00
12 months..(C)18'' (TL)17'' (FU)20'' (FL)22'' ….$80.00
18 months..(C)19'' (TL)19'' (FU)22'' (FL)24'' ….$80.00
2 toddler....(C)20'' (TL)21'' (FU)24'' (FL)26'' ….$100.00
3 toddler....(C)21'' (TL)23'' (FU)26'' (FL)28'' .…$105.00
4 toddler....(C)22'' (TL)25'' (FU)28'' (FL)30'' .…$110.00
Size 5.........(C)23'' (TL)27'' (FU)30'' (FL)32'' .…$115.00
Size 6.........(C)24'' (TL)29'' (FU)32'' (FL)34'' .…$120.00
Size 6x.......(C)24.5'' (TL)31'' (FU)34'' (FL)36'' ..$125.00
Size 7.........(C)25'' (TL)33'' (FU)36'' (FL)38'' .…$130.00
Size 8.........(C)26'' (TL)35'' (FU)38'' (FL)40'' .…$135.00
tween 10....(C)27'' (TL)37'' (FU)40'' (FL)42'' .…$150.00
tween 12....(C)28'' (TL)39'' (FU)42'' (FL)44'' ..…$160.00
tween 14....(C)29'' (TL)41'' (FU)44'' (FL)46'' ..…$170.00
Dress is empire style dress and bodice will measure as listed below for different sizes…
6 Months bodice…2''
12 months bodice…2''
18 months bodice…2 ''
2T bodice…3''
3T bodice…3''
4T bodice…3''
Size 5 bodice…4''
Size 6 bodice…4''
Size 6x bodice…4''
Size 7 bodice…4''
Size 8 bodice…4''
tween 10 bodice...5''
tween 12 bodice...5''
tween 14 bodice...6''
For custom fit we recommend you measure your princess.
1. Measure for chest(C)....around torso just under armpit.
2. Measure for length....from armpit down to length you want your tutu dress to fall.
Photo complements of Traci Nieto Photography
https://www.facebook.com/tnietophotography
https://squareup.com/store/traci-nieto-photography
******************************** PLEASE NOTE **********************************
Depending on availability petals and/or embellishments my require substitution. Due to handmade nature of items, slight variations are to be expected. Actual color may be different due to digital transfer and/or computer monitor color setting.
Mannequin is for display purposes only and not meant to display an anatomically correct child.
Most of my creations contain small parts. Please do not leave children unattended while in use or near items.
***********************************************************************************