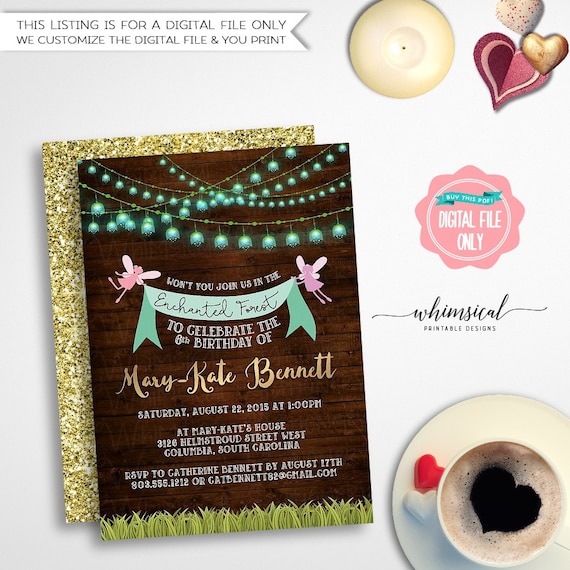 Fairy Princess Party Invitation "Fairy Fun" (Printable File Only) Enchanted Forest, Fairy Birthday, Fairy Party Invite, Fairy Forest Invite
By Whimsical Stationery
Product Info
** Please be sure to read ALL listing wording below **
Fairy Princess Party Invitation "Fairy Fun" (Printable File Only) Enchanted Forest, Fairy Birthday, Fairy Party Invite, Fairy Forest Invite
For the little fairy princess in your life... Listing comes with complimentary - and complementary! - back side file (as shown in listing photo only). Back side file includes our logo and website information, which cannot be removed.
This printable card is sized 5"x7".
*****Please note that this listing is for a digital file only. No physical items are sent to you. Any frames, flowers, desk items, etc., shown in the photo are computer generated and are not included in the listing in any way.*****
♥ Placing Your Order ♥
When making your purchase, please include the following event details in either in the "Order Notes" section of your purchase, or in an Etsy email immediately following your purchase:
(1) The first and last name of the party honoree
(2) The birthday age of the party honoree
(3) The date and time of the party
(4) The event venue name (if any), and the address (up to 12 total words including address; numerical values count as one word each)
(5) RSVP Information: To whom, what phone number (or email, if your prefer - or both!), and by when (one listed person only)
♥ What You Need To Know ♥
- Unless otherwise noted above, ALL colors in this design (graphics, fonts, backgrounds, etc.) are as shown only. If you are requested a color change, please message us BEFORE purchase to find out if your color changes would work, and any additional fee associated with the changes.
- Any faux-glitter or faux-metallic graphics or fonts shown on the printable design and/or back side file are not actually glitter or metallic in any way. They are "glitter look" or "metallic look" only, created using shadows and highlights that are computer generated.
-The requested information, in the line/word/character counts shown in the sample design of the first photo is all that the designs are set up for. ANY additional information, changes, etc., you want included should be inquired about BEFORE purchase, and will be subject to additional fees. If you purchase without inquiring about additional information first, your order will be placed on hold until you have paid these additional fees.
- This listing is NOT for a template. All customization is done by us, and the final printable file sent to your email at the end of the proof process. Our files are not in any way editable by the customer, it is against our TOU's. See our Policies for more details!
♥ Legal Bits ♥
This listing is subject to all of our rules, policies, and answers supplied in our "Frequency Asked Questions" section, including but not limited to proof process, final approval process, timelines, terms of use, "Incommunicado" Policy, and more. Further information can be found in our "Shop Policies" (see in tab at top of listing). See below for a quick outline of the top questions, and see our Shop Policies & FAQs for more details :)
-Our currently turnaround time for initial proofs (not including Seating Charts!) is within 72 hours of your purchase with payment cleared and all requested details received. After that, it is up to you to get back to us quickly with any revision requests or final approval.
- All listings come with two rounds of revisions. Any revisions requested after this (or after final file is sent) are subject to additional fees.
- We reserve the right to close your order and issue a credit good for 90 days if you don't return our communications.
- Our printables are for personal use only!
All listings, including custom listings, are subject to our Shop Policies and "Frequency Asked Questions" section.
♥ Printing Help ♥
***Unsure of which Final File Format to choose? ***
If printing anywhere but at home, we recommend calling your printer ahead of time to find out their preference. But here's a quick guide that works in most situations! :) (Please note that we are not responsible if you do not call your printer before purchase and end up needing the opposite file format after purchase. This will be an additional fee, so we highly recommend calling your printer!)
- If you're planning on either printing at home or sending to an online printer, or printing as a photo (not recommended, as the paper is thinner and the gloss can affect the design color) your best option is to choose JPG.
- If you're planning to send to a local printer for printing, your best option is PDF.
Please note that requesting both JPG AND PDF copies of your final file is subject to an additional fee.
For printing at home instructions, please see our website at:
www.whimsicalstationery.com
Please note that if you are planning to have your item(s) professionally printed, we recommend that you call your printer before you purchase to find out if the printer has requirements for special sizing, bleeds, etc.. and let us know about these requirements immediately upon ordering. Any request for reformatting, including bleeds, after initial proof has been sent are subject to additional fees.
♥ Thanks for choosing Whimsical Stationery! ♥