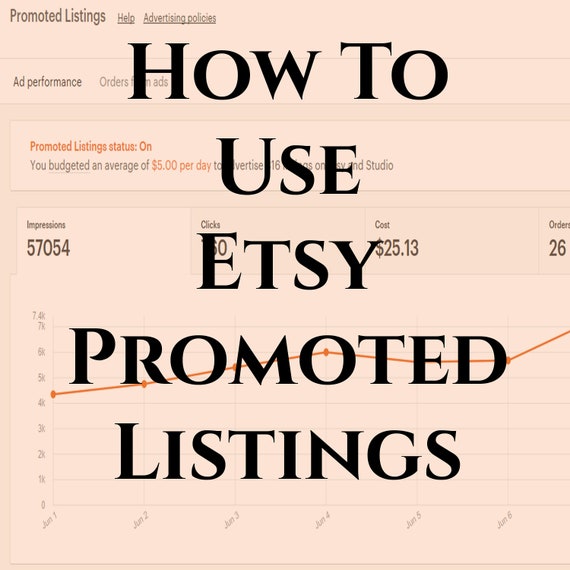 How to use Etsy promoted listings tutorial download. Tips for Etsy sellers on how to run ads on Etsy. All proceeds go to animal rescue!
By A Cake To Remember LLC
Product Info
All proceeds from this listing go to C.A.R.E., a cat rescue group in Richmond, VA!
Etsy promoted listings can be an effective way to get more Etsy traffic and sales, but they don't work for every shop. This guide will help you navigate the Promoted Listings system, and will go over the things that you should be paying attention to in order to make sure they're really working for you.
There's no one-size-fits-all formula that you can use to run promoted listings, so it's important to know what to look at when you're deciding whether your ads are working, and how to adjust them when they need adjusting.
This guide is a companion to my video series that goes over the basics of the PL system. If you go to youtube.com/karabuntin, search for "promoted listings" and watch that four-part video series you'll see a lot of this information there, but I go into more detail in this guide. I also add information about different strategies that people have used to shape their ad campaigns, and I add a more in-depth section about how to analyze your data.
If you're a visual learner go watch the videos...Then get this guide to go along with them and go into a little more detail!
I can't guarantee that promoted listings will help to get you more sales or traffic because they don't work for everyone. This guide can help you figure out if they're worth using, though.
This listing does NOT include ongoing support from me...If you have more in-depth questions, you can upgrade to the full shop review listed below.
I've been on Etsy since 2011 and I'm a full-time seller with over 21,000 sales. I'm currently using promoted listings in my main shop and I get out about 30 times the amount of money I put into the ads. I also have a second shop that I DON'T use with promoted listings, because they don't work as well there! This guide will tell you why. :)
To get a full shop review and access to my private facebook group for former review-ees, click here: https://www.etsy.com/listing/261845569/