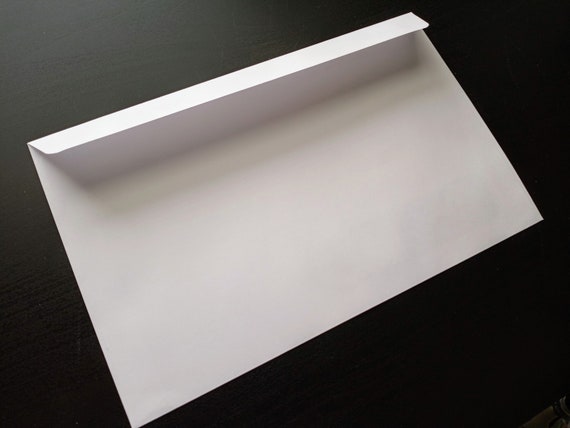 No. 6 1/2, Bright White Open Side, 9x6 Envelopes with Booklet Design, Gummed Seal Square Flaps, Stationery Set
By Maya Grace Prints
Product Info
What is Included:
No. 6 1/2, Bright White Open Side, 9x6 Envelopes with Booklet Design, Gummed Seal Square Flaps, Stationery Set
Product Details:
ACTUAL SIZE MEASUREMENTS: 9 inches by 6 inches
TEXT WEIGHT PAPER: 70lb Paperweight (GSM 104)
FLAP DESIGN: Gummed Seal, Square Flaps, Rounded Corners
ENVELOPE CLASS: No. 6 1/2 Booklet Design
PAPER COLOR: Bright White Paper Sleeves
ENVELOPE CLOSURE: Open Side Top
FLAP SIZE: 1 13/16 inches by 9 inches - (W x L)
PRINTABLE STATIONARY: Inkjet Printer, Laser Printer Files, Digital Printer & Commercial Use Print Press
SIZE CONVERSION: 9 x 6 - converted inches to mm (228.6 x 152.4)
Additional Features:
The small mailers 9x6 white paper is a durable 28lb paperweight for bridal style magazines, while also can serve as policy enclosures are perfect for DIY moments!
Perfect for use as a pamphlet holder, paper brochures, sales materials, literature prints, booklet printing, annual reports, magazine sleeves, or small catalogs.
This basic paper mailer is a printable paper craft blank canvas white and has gummed seal square flaps with open side top, entrance for easy access loading.
These 9x6 Envelopes are great for mailing large paper weddings favors, graduations certificates, sweet sixteen plans and much more...
Shipping and Handling:
Orders are ship often within 24 to 72 hours of ordering, Monday - Friday. 8am to 5pm (Eastern Standard)
Most Orders will ship USPS Priority Mail ™️