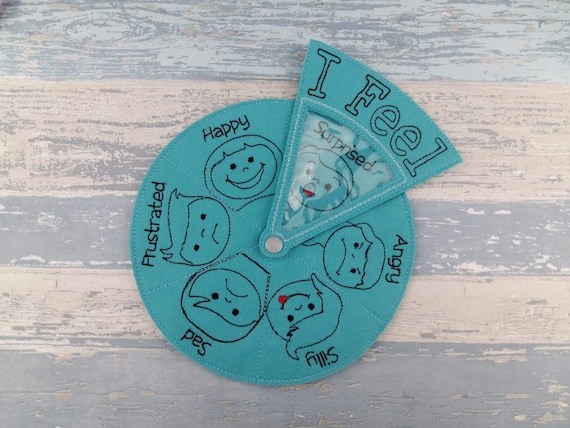 Emotion Wheel - Felt Feelings - Toddler Learning - Home School - Educational Chart - Teaching Children - Busy Quiet Book Help I Feel Faces
By A Heartly Craft
Product Info
Emotions & Feelings Play set, Home School, Preschool Toy Preschool Game, Home Learning - Felt - I Feel
The Feelings Wheel comes in 2 sizes, 5 inches round and the bigger 8" size too. Each comes with a rotating marker!
The embroidery featuring being happy, sad, frustrated, silly, angry and surprised, makes it perfect for everyday use.
This Wheel includes:
- 1 Emotional Faces
- 1 spin-able vinyl wedge with snap
Learning about our feelings is an important part of growing up and can be so fun.
Please note that this item doesn't stick to it's self.
The wedge is made from felt with clear vinyl in the middle.
Great for all ages over 2 years old.
I am able to make these up in any colour for you and have added variations that you can choose.