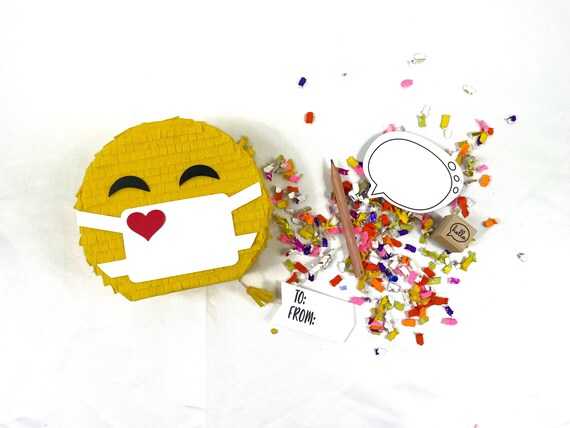 Emoji mini Piñata (1), emoji birthday, send joy, hang in there gift, quarantine, kiss emoji, emoji with mask, drive by party
By Craftophologie
Product Info
Emoji mini Piñata (1), emoji birthday, send joy, hang in there gift, quarantine, kiss emoji, emoji with mask, drive by party
****************************************
These are handmade MINI emoji with mask piñatas.
The face is on one side, the whole piñata is covered on fringe yellow paper.

Each piñata comes with a lid for you to open and close them, and a double sided arrow attached to the string.
Piñatas measure 5 inches in diameter, and 1.5 inches wide.
There are two options:
- message option. A message will be printed on a pretty paper and confetti inside.
- little gift option. A golf pencil, 5 cute bubble post it papers and your choice of 1 mini stamp.
No string to hang.
>>>Processing time:
It takes 3 business days to process your order.
>>> Shipping:
Please select the shipping method that you works for you, taking into consideration the processing time.
Check out @craftophologie on Instagram for more party inspo!