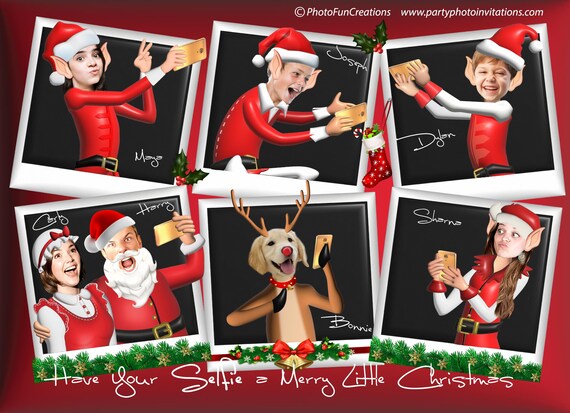 3D Elfie Selfie Christmas Card, Selfie Family Photo Holiday Christmas Card,Personalised Selfie Elfie Photo Greeting Card YOUR FACES,
By Photo Fun Creations
Product Info
✮✮✮DIGITAL DELIVERY✮✮✮
3D UNIQUE ELFIE SELFIE CARD CREATED USING YOUR FACES - DIGITAL FILE - YOU PRINT.
FAMILY OR CORPORATE
Please supply photos of✮✮ SELFIE FACIAL EXPRESSIONS✮✮ LIKE THE EXAMPLES if you wish to achieve the same result.
Choose from Santa and Mrs Clause, Reindeers or Elves.
✮ Elves are unisex, can be male or female
✮ Have elf ears or your ears......please state this at time of purchase.
YOU provide the photos and I will CREATE a funny FAMILY portrait of your FAMILY'S Faces AND CROP THEM onto the bodies of the very cute 3D elves, reindeer, Santa and Mrs Claus. PETS can be reindeer or elves ....see examples LEFT
▶︎ Please note the PRICE varies depending on how many CHARACTERS you require in the card. CHARACTERS can be PEOPLE OR PETS! Please see examples ABOVE
▶︎THIS IS A DIGITAL FILE - You will be sent a jpeg DIGITAL file for printing with your photos manipulated into the card/invitation. Print at home, online OR at Target, Walmart, Big W, k-mart, Staples, Vistaprint, OfficeMax, Shutterfly, etc.
► You can send your photos and required wording via a conversation OR EMAIL directly to [email protected]
Please do NOT attempt to cut out your photo/s....I will do that. For the best results you to need to send me clear, focused HIGH RESOLUTION photos. Remember I am only using a head shot ...so close up, mid-shots are the best.
❖ Extra charges incur for CHANGING photos once they have been placed into the card/invitation.
❖ COPYRIGHT - The products you purchase from this shop are for PERSONAL ONE TIME use ONLY and cannot be resold or used for monetary gain. All images are my original design. © 2019 PartyPhotoInvitations