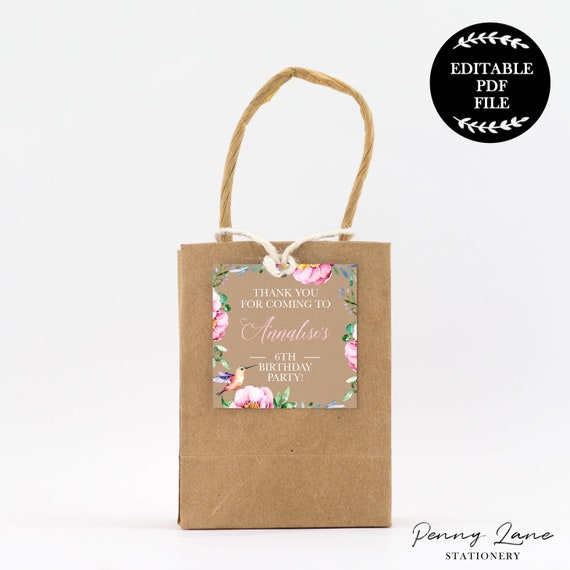 EDITABLE PDF, Hummingbird Favor Tag, Bird Favour Tag, 1st birthday Decorations, Pink Floral, Thank you Tags, Label, Gift Tag,Girls,Printable
By Penny Lane Stationery
Product Info
▶▶▶▶ IMPORTANT DISCLAIMER: THIS PURCHASE IS AN INSTANT DOWNLOAD PDF FILE EDITED BY YOU IN ADOBE READER AND PRINTED BY YOU ◀◀◀ ◀
What is included in this purchase?
•••••••••••••••••••••••••••••••••••••••••••••••
1 x Editable PDF file
1 x Instruction manual
What size is it?
•••••••••••••••••••••
- 5cm x 5cm
- Suitable for printing on both A4 and US Letter Card - 15 tags per page
Handy to Know
••••••••••••••••••••••
- The font, size and colour can be changed using Control-E (Windows) or Command-E (Mac).
- Download Adobe Reader here: http://get.adobe.com/reader
- You only need the free version of Adobe Reader, not the paid version.
- You do not need to download any fonts, they are all embedded into the file.
- The blue boxes will not be visible on your final print.
- Please ensure you have the latest version of Adobe Reader. If you have any issues please try updating your software.
- You must edit on a laptop or desktop computer, not a phone or tablet.
How do I get it?
••••••••••••••••••••••
1. Please click the "Add to Cart" button above.
2. Follow the prompts to complete payment
3. Once payment is confirmed, you will be redirected to the download page
4. Click on the button "Download" button to download your files. They will be located in the "Downloads" folder on your computer. A link will also be automatically emailed to you to download.
How do I edit it?
••••••••••••••••••••••
1. Right click the file and select "Open with Adobe Reader".
2. Click on the Blue Box and enter your text. (The blue boxes will not print onto your card)
3. If you need to adjust the size to fit a longer name, use Control-E (Windows) or Command-E (Mac).
4. If you are printing at home simply click print. If you are printing professionally click "Save" or "Save As" and choose your USB folder to save the file into. Take these files into your local printing store.
▶Please Note ◀
If you want to upload your files to an online service to have printed and mailed to you (depending on the service, some will accept PDF's), or use a photo-lab to print then you will need to convert the file to a JPG first.
There are many free conversion websites (such as https://smallpdf.com/pdf-to-jpg) which are quick and easy to use, and there are instructions for this in the included instruction manual.
What settings should I use to print at home?
•••••••••••••••••••••••••••••••••••••••••••••••••••••••••••••
1. Choose white card stock, 120gsm or heavier works best.
2. Select "Best" or "High" print quality.
3. Select "100% scaling" NOT "scale to fit"
Can I get a refund?
••••••••••••••••••••••••••
Unfortunately as these files are available Instantly refunds are not available for change of mind.
I need help or have a question?
•••••••••••••••••••••••••••••••••••••••••••••
Please feel free to contact me with any questions or issues. I strive for customer satisfaction and I will do anything I can to ensure you have a smooth and positive experience with your purchase!
Matching Extras
•••••••••••••••••••••••
See all here: https://www.etsy.com/shop/PennyLaneStationery?search_query=hummingbird
Any extras needed can be created, please contact me for pricing.
Disclaimers - Please Read Carefully
••••••••••••••••••••••••••••••••••••••••••••••••
- This item is an Instant Download DIGITAL downloadable file, no physical item will be shipped to you.
- It is edited by YOU in Adobe Reader. It is printed by YOU.
- You must use a desktop computer or laptop, you cannot edit using a tablet or phone.
- Whilst every effort on my behalf is made to ensure that your files look the same in print as they do on your monitor, the colours may vary slightly between your computer screen and printed product. This is due to factors such as different screen resolutions and/or types of inks and paper used in the printing process and is beyond my control.
- Once you have received your files, you are responsible for the printing of your files, whether you are doing this yourself or professionally. I am more than happy to provide my personal opinions and advice on the printing of your files.
Copyright © PennyLaneStationery
This product is licensed for personal use only. Any items included may not be copied, distributed, altered or resold in any form or fashion.