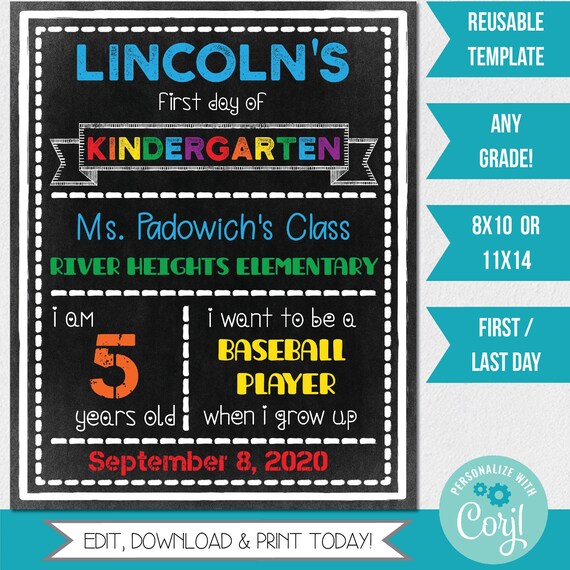 EDITABLE First Day of School Sign, Printable Back to School Sign, 1st Day of Kindergarten, Last Day of School, Edit Yourself Corjl Template
By Stripes and Chevron
Product Info
▧ TRY BEFORE YOU BUY ▧
Copy and paste this link into your browser to try a FREE demo! https://www.corjl.com/d/1HAG28
EDITABLE WITH CORJL.COM. Personalize this first/last day of school sign with your child's grade, teacher, school, etc. Most text can be edited and changed, so you can use the same template for any grade, or for a last day of school sign as well! Comes with a rainbow color palette. Edit, download, and print immediately! Choose from sign size 8x10 or 11x14.
*You are ordering a digital, editable sign. You edit, then can then print the file as many times and in whichever way you choose! Please note that you will NOT receive a paper product (unfortunately, I don't offer printing at this time).*
Want me to edit and customize this sign for you? See this listing here:
www.etsy.com/listing/199958134
▬▬▬▬▬▬▬▬▬▬▬▬▬▬▬▬▬▬▬▬▬▬▬▬▬▬▬▬▬▬▬▬▬▬▬
▧ HOW DOES IT WORK? ▧
▬▬▬▬▬▬▬▬▬▬▬▬▬▬▬▬▬▬▬▬▬▬▬▬▬▬▬▬▬▬▬▬▬▬▬
STEP 1: PURCHASE
Add this listing to your Etsy shopping cart and check out.
STEP 2: GET LINK
You will receive a link from Corjl to the email associated with your Etsy account. You will also receive instructions on how to edit. Please ensure that the email address registered to your Etsy account is current.
STEP 3: EDIT
Edit using your mobile device or computer. Personalize with your own text. *Please note that personalization is limited on a mobile device and that some features are only accessible by using a desktop or laptop computer.* Also, please note that Google Chrome is the preferred browser for editing with Corjl.
STEP 4: DOWNLOAD & PRINT
Download your personalized digital file! You can choose to download as a JPEG or PDF file. There are also different paper size, bleed, and trim options available.
You can then print as many times as you need!
You can also choose to send files electronically via email, text, etc.
*Please note that you are limited to a maximum number of twenty (20) downloads. However, access to the file never expires, so you can use the template over and over for each year of school!
▬▬▬▬▬▬▬▬▬▬▬▬▬▬▬▬▬▬▬▬▬▬▬▬▬▬▬▬▬▬▬▬▬▬▬
▧ HOW DO I PRINT MY FILE? ▧
▬▬▬▬▬▬▬▬▬▬▬▬▬▬▬▬▬▬▬▬▬▬▬▬▬▬▬▬▬▬▬▬▬▬▬
You have a few printing options. The great thing about digital printables is that you can print as many as you want, however you want!
Print from Home - Print file onto white cardstock (at least 110lbs recommended). Remember if you print on cardstock other than white, the colors of the design may vary.
Commercial Printer – You can print the file using places like Staples, Walmart, Office Max, etc. Save your file to your computer and either order prints on their website or bring the file into your local copy shop on a USB flash drive.
Online Options – Sites like Vistaprint.com or Zazzle.com offer printing BUT some have custom sizes or special file requirements. Please let me know if you have any questions or concerns.
▬▬▬▬▬▬▬▬▬▬▬▬▬▬▬▬▬▬▬▬▬▬▬▬▬▬▬▬▬▬▬▬▬▬▬
▧ PLEASE NOTE ▧
▬▬▬▬▬▬▬▬▬▬▬▬▬▬▬▬▬▬▬▬▬▬▬▬▬▬▬▬▬▬▬▬▬▬▬
Please note the colour that you see on your monitor may not be the exact same as your printed product. All monitors are different and display colours different. I recommend printing your proof on your home printer first to make sure you are satisfied with the colours.
Items are strictly for personal (non-commercial) use only. This material cannot be reproduced, forwarded, shared, or otherwise distributed.
Stripes & Chevron wants to ensure that you are 100% satisfied with your purchase and we will do our best to correct any issues. However, due to the nature of our products absolutely no refunds or exchanges will be given.
▧▧▧▧▧▧▧▧▧▧▧▧▧▧▧▧▧▧▧▧▧▧▧▧▧▧▧▧▧▧▧▧▧▧▧▧▧▧▧▧▧▧▧
*´¨)
¸.•´¸.•*´¨) ¸.•*¨)
(¸.•´ (¸.•` ¤ Check out my shop at https://www.etsy.com/ca/shop/StripesAndChevron
Check out my sister shop at www.etsy.com/shop/LeonaPrintables
▧▧▧▧▧▧▧▧▧▧▧▧▧▧▧▧▧▧▧▧▧▧▧▧▧▧▧▧▧▧▧▧▧▧▧▧▧▧▧▧▧▧▧