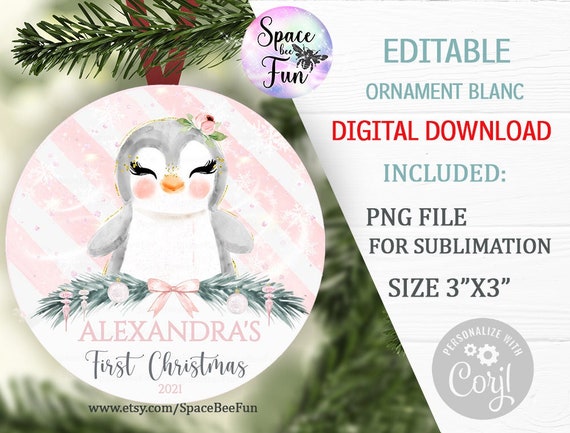 EDITABLE Baby's First Christmas Ornament Girl Pinguin PNG, Arctic Animals sublimation design First Christmas Baby Name template download 022
By SpaceBeeFun
Product Info
RELATED ITEMS. Other ornament designs:
https://www.etsy.com/shop/SpaceBeeFun?ref=simple-shop-header-name&listing_id=1081842600&search_query=022
Try the FREE demo - version before you buy!
TEST THE DEMO!
https://www.corjl.com/d/297F98
Copy and paste this URL into your browser, see how easy it is !!!
IMPORTANT: TEST THE DEMO BEFORE PAYING to make sure you're buying what you want.
Make sure you buy what you need!
This listing is for an instant download of a file designed for use on a 3x3 ornament.
Please note that this is a DIGITAL PNG file to print for use in sublimation or graphic design - the physical product will NOT be shipped!
This is not an SVG file and cannot be used as one
WHAT I GET AFTER I PURCHASE.
You will receive 1 regular (straight) png and one tapered png, file download instructions.
EDIT MOBILE DEVICE, COMPUTER, TABLET
-Corjl works best from a computer or laptop using Chrome
-Limited editing can be done on your phone or tablet
- No software download is required!
- Easy and fast!
-This instant download prompt can be edited right in your browser using Corjl.com.
-No need to download software, fonts, or wait for confirmation.
-Get access to your Tumblr design immediately.
-Purchase, edit, and print - Quick and easy!
WHAT'S INCLUDED.
-ornament design PNG file, size 3"X 3"
-Detailed instructions from Corjl
You have access to the file in Corjl for 90 days from the date of purchase and 10 downloads.
EDITING INFO.
After your purchase, you will receive an email from Corjl with a link to begin editing your new print form.
-Corjl is a convenient web-based service that allows you to personalize your item in minutes
-No software to download or fonts to download
-Simply replace the sample text with your own ( unless otherwise specified) upload your file to print, and print
EDITING
Graphics Not editable (you buy the graphics you see) -
IMPORTANT: DO check the DEMO version BEFORE PAYING to make sure you are buying what you need.
-Not all text can be edited, try the demo before you buy
-You can add, delete, or move most of the text, and change most of the color and size of the text
-You can also add a photo to your design
-Graphics or layout cannot be changed
-Corjl works best from a computer or laptop with Chrome
-Limited editing can be done on your phone or tablet
-You have 90 days to edit and a maximum of 5 uploads
USE OF PNG FILES:
PNG templates are very easy to use. First, immediately after purchase, save all files to your
computer. When you are ready to check the size of your Tumblr design, load the png template into your design space.
space. Overlay it with the image you want to use. The dimensions are approximate and can be increased or decreased according to your needs.
TERMS OF USE
YES. Personal use!
Personal use only!
NO. You may not resell give away or donate the original file.
NO. You may not resell or give away this file in any form or fashion.
NO. You may not modify, perform any manipulation of the design and resell it as the original file.
All rights reserved: ©SpaceBeeFun
NO. You may not sell transfers such as sublimation transfers, screen print transfers, HTV transfers, etc...
NO. Digital files may not be sold, transferred, or uploaded to any web sites.
NO. Digital files cannot be used on any print-on-demand websites.
NO. They cannot be uploaded to third-party sites such as AliExpress, Printful, Creative Studio, all Sawgrass sales and creation platforms, and all platforms where you upload artwork for printing.
All rights reserved: ©SpaceBeeFun
Some designer resources and clip art were licensed for use in the creation of this design.
SUBLIMATION KNOWLEDGE.
Prior knowledge of sublimation is required to use this file, please make sure you have all the necessary software and equipment to do so before purchasing.
SpaceBeeFun is NOT responsible for you downloading the file to your device, nor is SpaceBeeFun responsible for printing the files you purchase. You must print them yourself.
SpaceBeeFun does NOT offer support for any printing or sublimation processes.
SpaceBeeFun can only offer support for our files, i.e. what is involved if there is a problem.
COLOR TRANSMISSION
Colors may vary slightly from printer to printer, the monitor to monitor.
NO RETURNS
Due to the nature of the product, which is "Digital Files" according to Etsy policy, I do not accept returns, cancellations, or replacements for products you purchase.
BUT! Feel free to contact me in a message, via the Etsy form, if you have any difficulties.
HELP
Feel free to contact me with any questions or concerns and I will be happy to help you with whatever is in my competence.
I am always happy to help you to the best of my ability.
I don't accept returns, exchanges, or cancellations due to the nature of the product (digital). But please contact me if you have any problems with your order.
Make sure you read and agree to all of the above before purchasing!
By making a purchase you agree to the above terms and conditions.
AGAIN, REPEAT!
IMPORTANT: I do not offer printing or shipping, all files are digital which YOU must print.
IMPORTANT: Seller is not responsible for deviations in color - color may vary slightly from what you see on the screen. The type of paper may also affect the color.
I am NOT responsible if you improperly save the digital files provided and the file is poor quality or blurry because of it. Cell phones also change quality, so please save files directly to your computer or disk.
REQUEST:
If you need a different design, contact me BEFORE purchasing! I do not accept requests that we have not previously discussed.
CANCELLATIONS AND RETURNS:
Due to the nature of digital products, I do NOT offer refunds after I have started personalizing your products.
COPYRIGHT:
You may not share, resell, distort, change color palettes, change color schemes, upload to third-party sites, distribute, etc. my products. All designs remain the copyright of SpaceBeeFun. You may not impersonate any of my designs as your own.
SpaceBeeFun reserves the right to change the product usage policy without notice.
By purchasing this product, you agree to all of the above and understand what you are purchasing.
By making your purchase, you agree to my CONDITIONS OF USE.