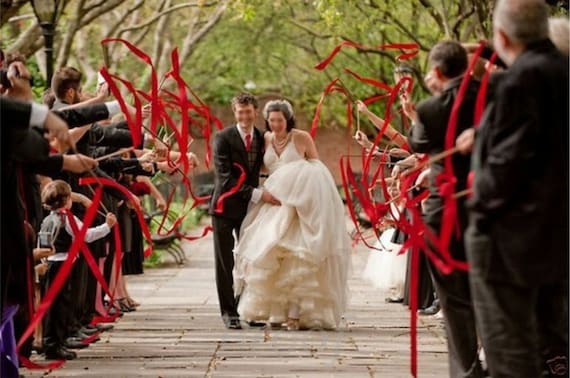 100 Wedding Wands Quadruple streamers with bells. Ribbons and/or lace your choice of colors
By Crafty Ribbon Galore
Product Info
This listing is for 100 Wedding Wands Quadruple streamers with bells. Ribbons and/or lace your choice of colors
WEDDING WANDS
Our custom Wedding Wands are fun and a great compliment for your wedding, party or event!
I look forward in working with you on customizing your wands. Tell me your colors and I will create the perfect wand for you!
♥♥♥ DETAILS ♥♥♥
Each wand is made up of a 12 inch dowel, 24 inch satin ribbon or lace and a bell (either gold or silver). I can also make your Wedding Wands without bells, just specify when you order.
I heat treat the ends of my ribbons to prevent fraying, tie tightly and adhere ribbons (lace) and bell securely, making sure nothing will not loosen up or slip off when waved.
Included in your purchase you will be receiving a card-stock table sign that lets your guest know to pick up a Wedding Wand to wave for a picture perfect send off and to continue the celebration at the reception (see font choices for table sign).
♥♥♥ CUSTOMIZE & PERSONALIZE ♥♥♥
Customize your Wedding Wands for your event colors and theme. Choose from an assortment of 50+ satin ribbons, 25+ lace and burlap/jute. You have the option of a single, double, triple or quadruple ribbons/lace per Wedding Wand you can choose any color combination.
*** I offer personalized ribbon with your names, wedding date, quote or anything you would like added. Please see pricing below for personalized ribbon.
Color of fonts: Black, Gold, Metallic Gold, Silver, Baby Blue, Hot Pink, Red, Green, Orange, White, Brown, Violet and Royal.
♥♥♥ PRICE PER WAND ♥♥♥
NO BELL
Wand with single ribbon .80 cents
Wand with double ribbon .90 cents
Wand with triple ribbon $1.00
Wand with quadruple ribbon $1.10
WITH BELL
Wand with single ribbon $1.10
Wand with double ribbon $1.20
Wand with triple ribbon $1.30
Wand with quadruple ribbon $1.40
***Lace is considered a regular ribbon at no additional charge.
***Personalize ribbon is an additional .40 cents per wand/per color.
***Burlap/Jute ribbon is an additional .20 cents per wand.
♥♥♥ BEFORE ORDERING ♥♥♥
Please convo me before purchasing with the following so that I can setup a custom listing with your specifications:
1. Date of the Event?
2. Quantity?
3. Color(s)?
4. How Many Ribbons Per Wand?
5. With or Without Bells - Gold or Silver?
6. Personalization on the ribbon? Yes or No (If yes, fill out the following questions)
7. Exact personalization you would like?
8. Color of Font?
9. Ribbon you want me to personalize?
10. Image or no image added to the personalization? (no additional charge)
♥♥♥ SHIPPING ♥♥♥
I always ship Priority Mail which is 2-3 days shipping, a tracking # will be provided so that you may track your package.
Thank you for visiting my shop!!!
Crafty Ribbon Galore
http://www.etsy.com/shop/CraftyRibbonGalore