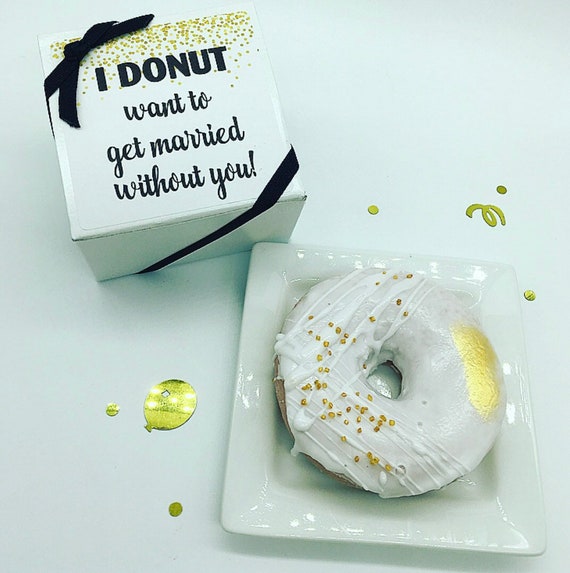 Donut Soap Proposal Bridesmaid Box Proposal Box Bridesmaid Gift Wedding Party Proposal Bridesmaids Donut Proposals Wedding Party Invite
By My Soapgrams
Product Info
★★ Each Donut Soap is molded in small batches and hand packed with love. My Soapgrams Donut Proposal Soaps "THE ORIGINAL" since 2016 ★★
This "Donut Soap Proposal" is exclusively designed by My Soapgrams!
What a unique and fun proposal idea!
These delicious doughnuts are so cute! They look good enough to eat! Just don't eat because they're soap treats made for the outside of your body! They have a wedding cake scent added that smells just like the real thing. If you have any questions feel free to contact us!
****BOXES ARE NOT SOLD SEPARATELY****
«·´`·.(*·.¸(`·.¸ ¸.·´)¸.·*).·´`·»
«·´¨*·.¸¸.*My Soapgrams*.¸¸.·*¨`·»
«·´`·.(¸.·´(¸.·* *·.¸)`·.¸).·´`·»
Packaged in a cute gift box with your choice of proposals;
"Will You Be My Matron of Honor?"
"Will You Be My Bridesmaid?"
"Will You Be My Maid of Honor?"
"Will You Be My Flower Girl?"
"Will You Be My Usher?"
"Will You Be My Ring Bearer?"
"Will You Be My Fellar?"
***PERSONALIZATION***
NOTES TO SELLER CHECKOUT BOX EXAMPLE:
Bridesmaid: Ariana, Tiffany, Mariah
Matron if Honor: Name/Names
Maid of Honor : Name/Names
Matron of Honor : Name/Names
Flower Girl: Name/Names
Man of Honor: Name/Names
Fellar of Honor: Name/Names
Ring Bearer: Name/Names
Groomsman: Name/Names
Officiant: Name
***NOTE ONLY IF PERSONALIZED IS CHOSEN***
Scent: Wedding Cake ~ Rich, moist and delightful! A luscious blend of sweet, creamy vanilla with hints of sweet buttery notes blended throughout.
Size: 3 x 3 x 1
Weight: 4.0 ounces
Quantity: One Soap Donut
Packaging: Gift box with bow.
***Individually wrapped to ensure freshness***
If you wish to ship each one of these individually to your bridesmaids please order each one separately and make sure to enter their shipping address so that she may receive it promptly and without delay.
https://www.etsy.com/listing/540182540/donut-act-like-you-knew-this-was-coming?ref=listing-shop-header-3
•Ingredients•
Premium Shea Butter Glycerin soap base(vegetable)
Coconut Oil
Palm Oil
Purified water
Sodium hydroxide (saponifying)
Sorbitol(moisturizer)
Sorbitan oleate (sweetening agent)
Natural Fragrance oils
Caring for your Soap:
Your soap will last much longer if you always use a soap dish that drains well and keep your soap dry between uses.
Looking for more bridal party gifts? Visit our shop for more FABULOUS gifts: www.etsy.com/shop/mysoapgrams
Great for wedding decorations, wedding party gift - cheap wedding favors, personalized wedding favors flower soaps flower soap favors personalized wedding soap favor Personalized Bridesmaid Box Bridesmaid Proposal Box Bridesmaid Gift Glitter Gold Mother Of The Bride Bridesmaids Flower Girl Box party favors Flower Girl Proposal - wedding party favors - party favors ideas - favors for wedding guests, bridesmaid proposal puns wedding shower favors, bridal shower favors, affordable wedding favors, junior bridesmaid - bridesmaid proposal - bridesmaid thank you - ask to be bridesmaid - jr bridesmaid gift - weddings wedding planning wedding planner wedding party gift proposal gifts - wedding jewelry gift - best selling wedding - donut soap, Bridesmaid Proposal doughnut soap - wedding invitation - doughnut soap favors - donut soap favors - will you be my bridesmaid - bridesmaids gift ideas - bridesmaid gift box, goats milk soap favors, goats milk soap, will you be my maid of honor, flower girl gift, I donut want to get married with out you, personalized proposal, be my officiant, be our officiant - proposal ideas MOH maid of honor proposal bridesmaid proposal bride tribe bridal party maid of honor gift Wedding Party Proposal prom proposal groomsman proposal donut proposal flower girl proposal Donut Soap Proposal Mini Donut Donut Proposal Bridesmaid Bridesmaids