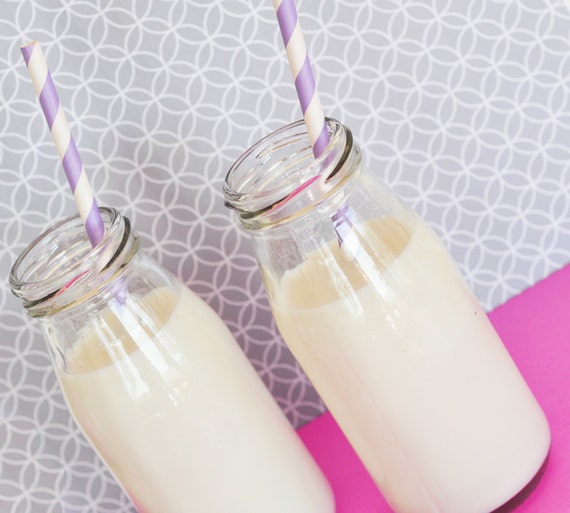 24 DIY Vintage Mini Milk Glass Bottles, Glass Bottles, Mini Glass Milk Bottle, Milk Jug, Vintage Milk Bottle (EB2302NP)
By Momentos Events
Product Info
Glass Milk Bottles at wholesale prices! Now it's easier to finish off the details to your completely custom event with these DIY Blank Milk Bottles. With these bulk priced, vintage inspired bottles, you can easily show off your own chic style. Each bottle comes with a screw top lid making them ideal to fill with your favorite candies, snacks, and more. Or, pair them with some striped straws for a modern drink container.
Size: 5.5" x 2.25".
THIS ITEM IS NON-PERSONALIZED. CANDY NOT INCLUDED. Note: Milk Bottles can hold approximately 8 liquid ounces, 175 Jelly Beans, or 135 candy covered chocolates.
¨)
¸.•´¸.•*´¨) ¸.•*¨)
(¸.•´ (¸.•´ *YOU ARE PURCHASING *¸.•*´¨) .•*¨)
♥ 24 Vintage Mini Milk Glass Bottles
¨)
¸.•´¸.•*´¨) ¸.•*¨)
(¸.•´ (¸.•´ *OTHER QUANTITIES *¸.•*´¨) .•*¨)
(48) - https://www.etsy.com/listing/239723916/48-diy-vintage-mini-milk-glass-bottles
¨)
¸.•´¸.•*´¨) ¸.•*¨)
(¸.•´ (¸.•´ *POLICIES *¸.•*´¨) .•*¨)
By purchasing this product you are agreeing to the policies of this Etsy shop. PLEASE READ my policies page before purchasing an item or if you have any questions regarding PROCESSING or SHIPPING times.