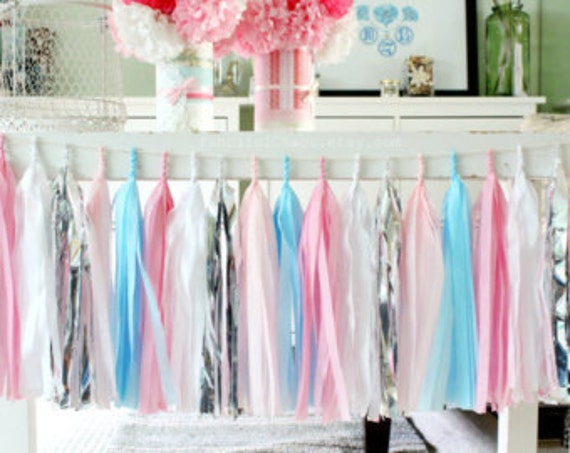 25 - DIY Tissue Tassel Garland Kits - Modern Girls Room Wedding Shower Cupcake Nursery Decor Kids Children Silver, White, Pink, Blue, Blush
By A Charming Galore
Product Info
This is a DIY Kit and will require some assembly
Custom DIY Kits are available. Please contact us for details.
All you have to do it all that's left is to twist and loop the tassels onto their hanging twine, and you're done! The tassels can slide along the twine, so you can space them as far apart (or close) as you like to create the perfect length.
Each tassel's fringe is pre-cut and instructions are included for assembling your garland. Tassels ship flat (image above shows how they are packaged). 3 yards of natural twine for hanging is included. Average assembly time is about an hour total per garland.
Tassel garland is great for:
weddings
bridal showers
birthday parties
baby showers
home decor
nursery or children's room
photo backdrop
and much more!
Tassels shown in the listing pictures are 14 inches (35cm) long, 50cm wide.
This kit includes 25 tassels.
5 pcs (sheets) in one clear opp bags
All tissue tassel arrive flat, pre-folded, with 1 meter twine rope for easy handing.
Tassels can be easily moved along the twine to provide a more sparse or fuller look depending on your taste.
Due to their hand-made nature, we do not accept returns on our tassel garland kits.