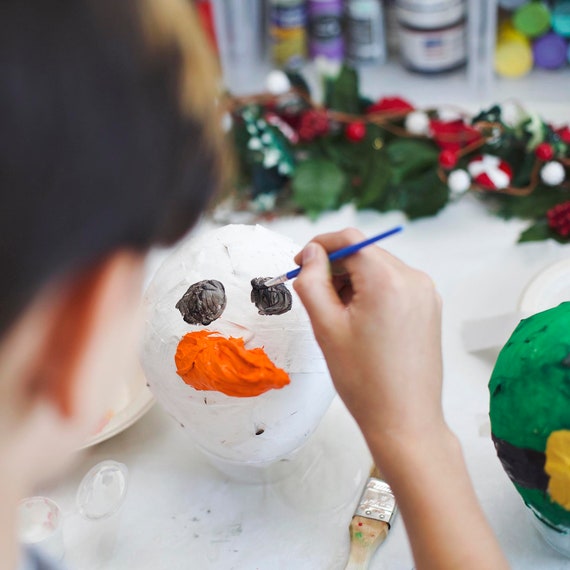 DIY Snowman, Snowman Decor, Snowman Face, DIY Christmas Kit, DIY Christmas Gifts, Activities for Kids, Craft Kit, Paper Mache, Holiday Kit
By La Design Boutique
Product Info
This DIY Snowman is one of the four holiday characters you can work on this holiday season. Christmas kits for kids and adults to the rescue! These Paper Mâché Activity Kits are a great way to get in the holiday mood. This is the perfect activity to do with them and for them to learn to follow through with a project and be proud of their hard work and end result. If you have a kid who likes to be messy, or one who likes to paint, or one who is creative and imagination runs wild, or one who is just bored, this is the perfect kit for them. They can choose from a line of different characters which include Santa, elf, snowman and ornaments that can you decide how you like.
Each package includes everything you need to create a paper mâché animal. Please note that Paper Mâché is a two day project. One day is for the paper mâché process and allowing it to dry and the second day is for painting. Detailed instructions are included in the package to tell you what to do step by step. Personal certificates are also included with every package so you can name and make your pet your own after.
Collect all of them and do what you like with them whether it be decor, a piggy bank, an ornament... the possibilities are endless.
All the characters available in the Christmas collection:
Santa, Elf, Snowman and Ornament
For our animal collection, go to listing:
https://www.etsy.com/listing/841948447/activities-for-kids-activities-kit-for?ref=shop_home_feat_1&pro=1&frs=1
All the animals available:
Panda, Cat, Bear, Seal, Cow and Pig
All the characters available in the Halloween collection:
Frankenstein, Black Cat, Mummy, Jack O Lantern
https://www.etsy.com/shop/ladesignboutiqueshop/?section_id=29100106
These make great activities for your kids but also great gifts. Please note that the finished product shown will NOT be included in the kit. This is a DIY kit that you make on your own and the way your animal looks at the end may and will vary from what you see in this listing.
Promo Video;
https://www.youtube.com/watch?v=a70Yq2NJgEQ&feature=youtu.be
How To Video:
https://www.youtube.com/watch?v=iP_RQwxJph0
* * * * * * * * * DELIVERY & PRINTING * * * * * * * * *
DIY Activity Kits are usually shipped in 1-3 business days. Shipping time will vary with your location.
* * * * * * * * * CUSTOM DESIGN * * * * * * * * *
Please go ahead and convo me if you have any questions or concerns or have any requests for another animal or design you would like to see!
* * * * * * * * * CONNECT WITH US * * * * * * * * *
Website: https://www.papermachemehappy.com
https://www.ladesignboutique.com
Instagram: https://www.instagram.com/papermachemehappy
Etsy: https://www.etsy.com/shop/LaDesignBoutiqueShop
* * * * * * * * * TERMS OF USE * * * * * * * * *
DIY Activity Kits involve adult supervision and work to arrive at the finished product. Finished products will vary and we are not responsible for products that do not turn out as you prefer.