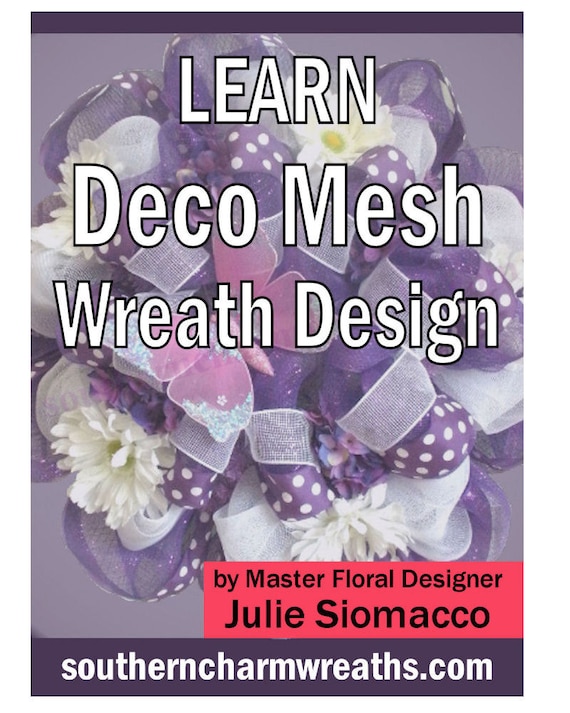 How to Make a Mesh Wreath Bundle, How to Make Deco Mesh Wreaths, How to Make Wreaths with Mesh, Deco Mesh Wreath Tutorial
By Southern Charm Wreaths
Product Info
In this how to make a mesh wreath bundle package, I give you everything you simple steps in an easy to follow format on how to make wreaths with mesh. No matter what your wreath making skill set is, you will benefit.
It's clear this deco mesh craze is catching on and everyone wants to learn it. I receive emails all the time of fans asking me how to make my popular deco mesh wreaths. They wanted to know: How do I get my loops and spacing even? Where do I get my ribbon? Where do I buy deco mesh material? Finally I realized I would not be able to keep up with the demand on making these popular and brilliant mesh wreaths. I knew I had to teach people to make these wreaths the right way!
My eBook (electronic book) contains 60 pages of step-by-step instructions with over 150 clear and detailed instructional photos. Chapters in the book include:
**What is this Craze--Deco Mesh? Discuss the different styles, patterns, colors, prices and uses.
**What Materials to Use? Learn about what types of materials are better than others, including: Wreath Bases, Ornaments, Ribbons and Signs
**Which Wreath Base? Learn about the different wreath base options and learn to secure mesh in each form, including: Wreath Forms, Grapevine Wreaths, Box Wire Frames and Straw Wreaths.
**Step-by-step Instructions! Detailed pictures and explanation guiding the reader through designing the mesh wreath pictured above in this listing, including: Securing Mesh to the wreaths, Adding Ribbons, Adding Artificial Flowers, Securing Ornaments and Adding Signs.
**Where can I buy Deco Mesh Wreath Supplies? A list of vendors found in retail stores and online shops supplying Deco Mesh wreath materials.
**How to take Pictures of Wreaths? Photo taking tips for listing wreaths online or to remember your talents.
But also included in this package is:
1.Full Access to our Learn Deco Mesh Wreath Design Private Facebook Group.
This Facebook Group was designed specifically for wreath makers. Discussions include where deco mesh supplies are found in your area, learning methods of other deco mesh wreath styles, finding ideas and inspiration for your next deco mesh wreath design, shipping problems, vendors and more!

2. eGuide Designing Deco Mesh Garlands!
Step-by-step eGuide demonstrating how to make deco mesh garlands and their many uses. Plus an example of making a matching mailbox bow! This eGuide is 18 pages with over 50 pictures.

3. Spreadsheet helping you calculate your wreath cost for selling retail.
Download and use as a template for calculating your retail mark-up for each of your wreaths. Just click, File, Save As and rename the file each time! NOTE: Available in Excel 97 & Excel 2007
4. Report on How to package your deco mesh wreath for shipment!
Whether you want to make wreaths to sell online for a profit or make a wreath to ship to Grandma and Aunt Jane as a gift to mail, these instructions for packing wreaths for shipment will be what you need.
5. A video showing you step-by-step how to make my popular candy cane mesh wreaths. It is an hour long and customers say it is my best video yet!
6. New for 2016 - An hour long video showing you step-by-step how to make a full mesh burlap fall wreath with sign, ribbon, flex tubing, silk flowers and bows. Customers are RAVING about this video addition.
7. Plus you get instructions and video for making 8 additional wreaths in what I like to call "Wreath Recipes". There is a cross wreath, elf wreath, Mardi Gras wreath, spring wreath, funky bow Halloween wreaths, screen door wreath and patriotic wreath!
Get more bang for your buck by making these YOURSELF! Once you start, you will see how easy and fun designing with deco mesh can be. Your neighbors will be so envious seeing your gorgeous deco mesh wreath on your door! How shocked will they be to learn YOU MADE IT! Or earn extra cash making and selling your own wreaths on Etsy or Facebook, or make gifts for loved ones. The possibilities are endless!
Testimonials:
"Ok, very seldom do I ever pay $37 for a product, but today I decided to buy the "Learn Deco Mesh Wreath Design" eBook by Julie Siomacco. Man was that the best $37 I have ever spent! I know some of you have said my wreaths look beautiful, but that was before I had the techniques and tips from Julie!! Now I think my wreaths are more beautiful!! I would love to express the utmost Thanks to Julie!!! I will forever be using the techniques and tips she offers!!" J. Matthews, Alpine, TX
"Julie's eBook did deliver as promised! I wasn't sure if it would really give all the details for making a deco mesh wreath, but it did plus more! I definitely would recommend this eBook to anyone wanting to learn how to make deco mesh wreaths because it was very good! The spreadsheet will help for my own online shop. Thanks Julie for your help! " L. Hand Griffin, GA
"Julie, I just finished reading your eBook and thought it was very professional and well written. I think anyone from a beginner to experienced crafter could benefit a lot from this instructional tool. I know trying to describe a specific action with words is sometimes difficult to convey, but you did an amazing job!!! Loved the pictures too. I have been inspired by you once again, and went out to buy little rubber ducks to add to my baby themed mesh wreath. Thanks again"! --S. Ferko Ontario, Canada
There are no shipping fees! These ELECTRONIC files will be made available to you at the email address you have registered with PayPal as well as a message sent to you through Etsy within 12 hours of receipt of payment, sometimes a lot sooner!
Unfortunately, these items can not be divided and sold separately.
You will need the FREE Adobe Acrobat Reader loaded onto your computer to be able to read the ebook and materials. You can transfer the pdf files to an ereader such as Nook or iBooks.
All of this detailed information for less than $40! Another holiday is just around the corner and deco mesh is easy to use both indoors and out!
I all items in this bundle are made by me, directed by me and photographed by me.
Happy Wreathing Yall!
PLUS free instructions for making my newest style "curly loop deco mesh wreath"!