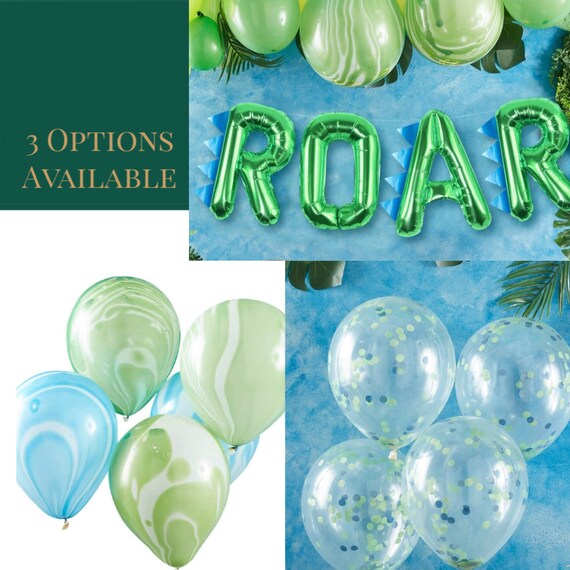 Dinosaur Party Balloons - Roar, Blue & Green Confetti and Marble Balloons
By EnFete
Product Info
Three super fun options in balloons: ROAR balloon bunting, blue and green confetti balloons, and green and blue marbled balloons. Use for a dinosaur birthday party or any theme with blue and green. The marbled and confetti balloons work well for an Under The Sea theme!
Each type sold separately. If you want more than one, add your selection to your cart, and then return for your additional items.
ROAR:
Our ROAR balloon bunting will be a focal point for your party. The ultimate finishing touch to your dinosaur party. A fun balloon that will be loved by all! The balloons can be attached to walls and also included dinosaur spikes to attach! Each pack contains 4 x 16" letter balloons, and 3 dinosaur spikes (you attach) and twine to hang.
No need to add helium to the balloons either used the straw provided or a balloon pump!
CONFETTI BALLOONS:
To make the confetti stick to the side of the balloons, we recommend inflating the balloon with helium or a puff of air.
Each pack contains 5 x balloons measuring at 12" each filled with a mix of green and blue confetti.
MARBLED BALLOONS:
The green and marbled effect will take you to a land of dinosaurs. The cool effect will be loved by party guests!
Inflate the balloons with helium to make them float. Combine with our 'Green & Blue Confetti Balloons' for a fun display.
Each pack contains 10 x 12" balloons.
OPTIONAL VINE BALLOON TAILS: Fabric vines that can be tied on as balloon tails. Set of 5 tails (3 feet long each.) (You will need to add the balloons you want to the cart, and then return to this listing to add the vines to you cart.)
Pair with our ROARSOME party tableware for the perfect dinosaur party! Complete your whole party with EnFete! Everything you need to put together the perfect party in one place!
Subscribe for updates, party tips, and free printables at: https://pages.convertkit.com/ceba5cd529/b18dafea38