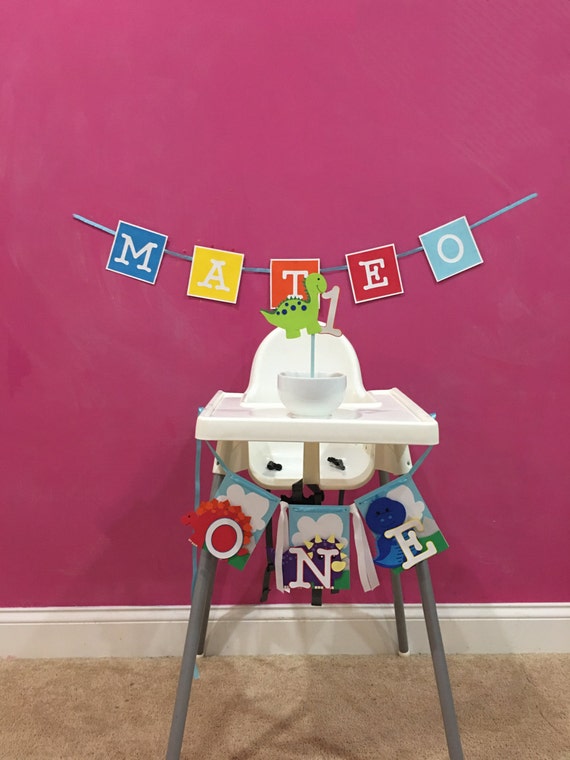 Dinosaur high chair banner, first birthday party decorations, One year old party, one year old kit celebration
By Craftophologie
Product Info
Placing an order: Please be sure to leave your "wish date", it is not the same as the party date. I will organize my orders from the wish date. Not what etsy provides. Thank you :)
*****************************************
This is a handmade ONE YEAR CELEBRATION KIT. The order includes a small high chair banner, a cake topper, and a name wall banner. The designs are cute dinosaurs in different colors.
The high chair banner is a compilation of high quality card stock paper, each character has different details. By layering card stock I give the banner a 3D appearance. The base of each letter is 4" x 6". Some of the dinosaurs parts stick out a little bit. The banner is adjustable, you can get the letter rectangles closer or apart until you find the perfect position for your high chair. The banner is hold together by a light blue ribbon. At the end of the ribbon I fold each end to create a hoop. I noticed it is easier to just use regular tape to hold it in the high chair.
The cake topper is on the smaller side. The dinosaur and the number 1 together measures W: 5" and H: 4". Everything is hold together by a paper light blue straw. The straw can be easily cut with scissors. The design shows a dinosaur "eating" the number 1. The number 1 is made out of white glitter paper surrounded by orange paper.
Each letter square measures 5" x 5". Everything is hold together by a 3/8 inch wide silk ribbon. Each end is fold to create a hoop. No hook is included for you to hang it. I recommend the 3M COMMAND hooks, they don't damage the walls.
I accept custom orders all the time. Check out my Facebook or instagram page for ideas @craftophologie