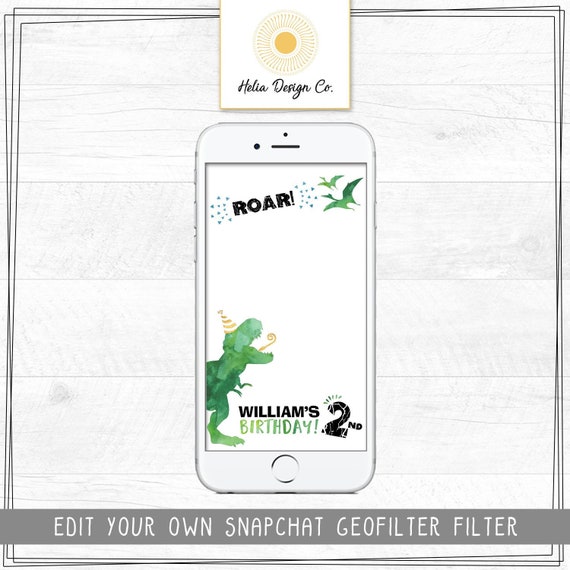 Dinosaur Birthday | Snapchat Geofilter | Personalized Filter | Edit Yourself at Corjl.com
By Helia Design Co.
Product Info
..:: T H I S L I S T I N G I S F O R ::..
An Edit Yourself Snapchat Filter!
Filter is only editable through Corjl.com, details below!
**Please advise Snapchat requires a MINIMUM of 24HRS to approve your geofilter so be sure to upload and set up your filter prior to your event! Snapchat also charges a minimum upload fee of $5 that is separate from my design cost (i.e. you pay this fee when you set up your filter with Snapchat).
*This listing is for the artwork only. You will need to submit your geofilter to Snapchat yourself.
..:: P L E A S E R E A D B E F O R E P U R C H A S I N G ! ::..
Corjl.com is an editing website that allows Etsy sellers to upload their designs for customers to edit their own designs easily without the need to download any software or fonts!
Corjl supports editing on desktops, tablets and mobile phones. After you have purchased your invitation through Etsy, Corjl will send you an email [to the email linked with your Etsy account] with a link to edit your Snapchat Filter. You can also go directly to Corjl.com and enter your Etsy email or username and order number to access your design.
1. Once you open your design you can edit the text fields by clicking on them. You can also change the size of the font or delete fields you don't need.
2. After you have finished your design, or if you need to stop and save for later, click save. The design will stay saved in your account until you're ready to access it again up to 60 days.
3. When you're ready to upload to Snapchat, download your file from Corjl and follow these instructions!
..:: H O W T O U P L O A D T O S N A P C H A T ::..
-You must upload your personalized geofilter from your computer.
-UPLOAD FILTER HERE: https://create.snapchat.com/org/guest/purchase/choose-product
-Select Create Filter
-Click to upload your own design
-Locate and upload your personalized png file sent to you from Helia Design Co.
-Click Next
-Choose your Event Date and Time then click Next
-Type in your event location or click to "Draw a Fence" around your venue. Be sure to make your location large enough to cover your party's house/building/venue so your guest's will be able to find your filter. *The larger your fence the more expensive $5 is average of a basic location.
-Double check your date and time are correct and click Checkout!
Click here to familiarize yourself with Snapchat's guidelines before purchasing this listing.
Snapchat's full Submission Guidelines:
geofilters.snapchat.com/submission-guidelines
If you have any questions feel free to contact me!
..:: T R Y B E F O R E Y O U B U Y ! ::..
Click here to try a demo of this design so see how it works!
https://www.corjl.com/orders/demo/PJE33B
..:: C H A N G E S ::..
Need a different size? Want it customized? Change a color? No problem! Just message me!
..:: T H E M E ::..
Find matching party decor in this theme in my shop! Matching items from invitations, favor labels, thank you tags, water bottle labels, banners, etc! If you don't see what you're looking for just contact me!
..:: P O L I C Y ::..
Due to the nature of the digital download files, orders are NON-REFUNDABLE. Files are downloadable immediately after purchase and therefore I can not offer returns. By purchasing from Helia Design Co. you are agreeing this purchase is for •personal use only•! My designs can not be altered, sold, or used for any other use than stated above.