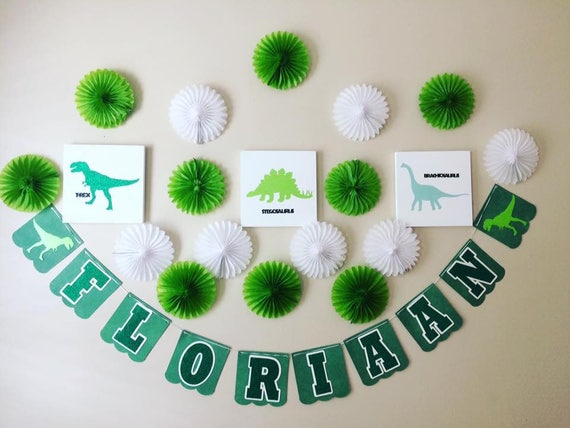 Dinosaur Birthday banner, Dinosaur banner, Dinosaur party, Dinosaur
By SmashCaked
Product Info
Hi there!
I am so excited you are here and I would love to tell you a bit more about our Dino themed Banner!
Please note this is listing is for the banner ONLY and does not include any of the additional decorations (Paintings/Fans)
How it is made:
All my toppers are made of glittered card stock with this banner we also use plain card stock;
We use Magical Papier Mache which is stomped into Card Stock by our in- house Unicorns.
Fairies sprinkle it with just the right amount of Pixie Dust before it is being cut into your magical cake topper.
Okay, Yeah I know I went a bit overboard here but the cardstock we use is pretty stinkin awesome!
We searched and tried many brands and we love our current Non toxic- low-shed glitter-stock!
This makes a perfect topper as the glitter will not fall on your cake!
And if some does come off..No worries it is non-toxic! YES!
It is the same stuff your cake decorator uses on your cake to make it sparkle!
I bet they don't have the magic fairies to sprinkle it on top! Or do they?
Got any questions about your topper, need it for a different size cake, different color or want to know the names of our Unicorns?
Do not hesitate to hit the message button!