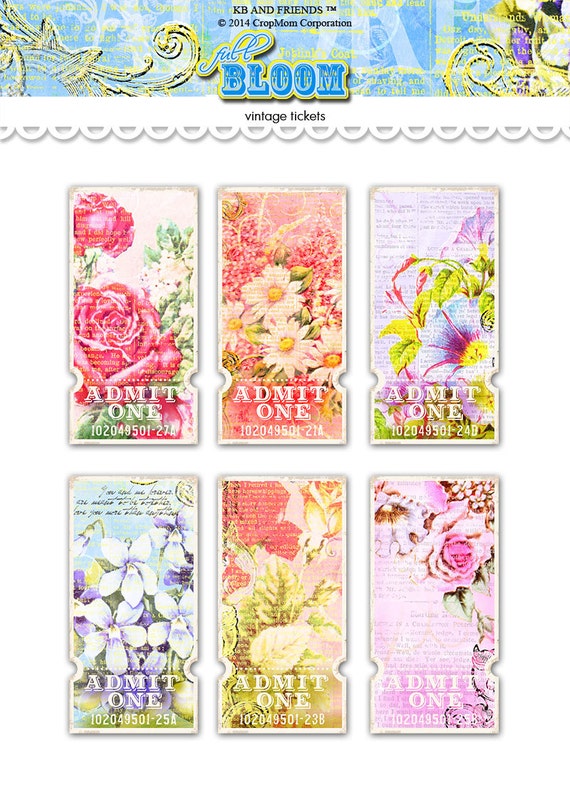 Digital floral tickets / shabby chic / vintage / ephemera collage sheet / 6 designs, 3 sizes / downloadable, printable / wedding DIY
By KB and Friends
Product Info
This is a beautiful collection vintage, floral tickets that will add a touch of shabby chic romance to your scrapbook pages, altered art, mini albums, tags, greeting cards, stickers and even wedding projects. There are six digital tickets in all.
☛ Shop our other products here: http://www.etsy.com/shop/KBandFriends
These floral tickets are delivered as an "instant download," allowing you to download them and print them immediately after you've purchased them.
→ This is a digital product that you must download. You will not receive a physical product in the mail.
You'll get the tickets in three sizes: 2" by 4", 1.5" by 3" and 2" by 1". (Measurements are approximate.)
More about these digital tickets.
♥ Delivered as an almost 15-megabyte .ZIP file.
♥ The .ZIP file contains the cards in all three sizes on two 8.5" by 11" collage sheets in the .JPEG file format. The tickets are arranged to fill the entire page on each collage sheet. Altogether, if you print both sheets, you'll have printed 33 tickets.
♥ The .ZIP file also contains the six different floral ticket designs in transparent .PNG format, which is perfect for those of you who create digital scrapbook pages and other digital art. You can even add your own words using these .PNG files.
,
♥ The predominant colors include cream, ivory, blue, purple, orange, red, yellow, green.
♥ Each ticket features a number, a special word and a vintage floral image.
♥ The words are all love-related: bliss, adore, cherish, love, forever, always.
Make sure that your computer has software that can unzip or extract .ZIP files. You can find the software by searching for it on the Internet.
Also, you'll need image-editing software that can read transparent .PNG files.
By purchasing and downloading this file, you agree to abide by our terms of use for these digital postcards. You may use these graphics for personal use or for limited, small-business commercial uses, as outlined below.
Small businesses may print and use these digital graphics in handmade, tangible, physical products for sale. The graphics must be used in a handmade product to which you've added your own creativity, not simply printed out and sold. These graphics may not be used in mass-produced products.
You are not allowed to use these digital graphics in digital products. We do not allow our graphics to be redistributed digitally in any form.
By downloading our digital graphics files, you agree not to share them, not to redistribute them digitally and not to claim them as your own.
:::::: The graphics are created by us, a mother-daughter team at KB and Friends. These graphics are uniquely ours and are copyrighted by us .::::::
Please read the entire product description as we do not offer refunds on purchases of digital items. Contact us if you have any questions.