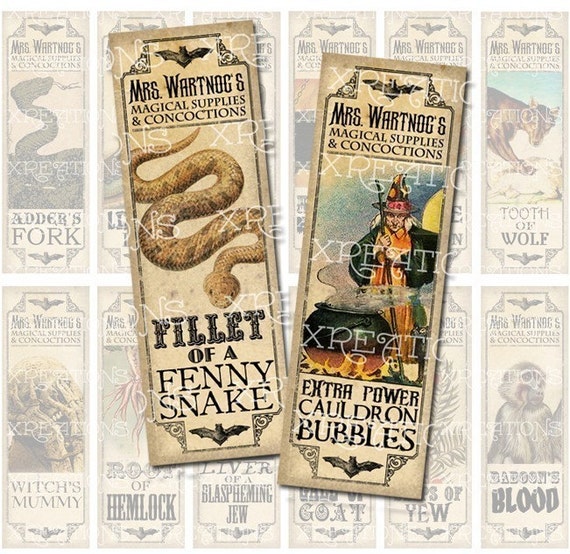 Halloween Potion Labels, Apothecary Labels, Witches Brew Ingredient Labels, Wicked Soup Ingredients from Macbeth's Witches' Chant
By Pink Paper Trail
Product Info
This listing is for 1 digital sheet in 8.5x11" size (U.S. letter size) containing high quality images (300 dpi) of Halloween potion labels, apothecary labels, witches brew ingredient labels, Wicked Soup ingredients label from Macbeth's Witches chant. All images are of high quality which I have personally restored, edited, enhanced using Adobe Photoshop CS3.
================
WHAT YOU GET?
================
- Various antique styled labels inspired by Macbeth's witches chant. Each label measures 1x3" rectangle.
- The purchase is for instant download. Upon purchase you will be able to download the file instantly in jpeg and pdf formats. Download it directly from your purchases and downloads page. For help in downloading please see: https://www.etsy.com/help/article/3949
* No prints are included in this listing, no tangible item will be sent and nothing will be shipped, this is a digital file only. ***
These were inspired by Shakespeare's writing - "Macbeth," the part where the witches chants as they make the wicked evil soup.
_________
Thrice the brinded cat hath mew'd.
Thrice and once the hedge-pig whined.
Harpier cries "'Tis time, 'tis time."
Round about the cauldron go;
In the poison'd entrails throw.
Toad, that under cold stone
Days and nights has thirty-one
Swelter'd venom sleeping got,
Boil thou first i' the charmed pot.
Double, double, toil and trouble;
Fire burn, and cauldron bubble.
Fillet of a fenny snake,
In the cauldron boil and bake;
Eye of newt and toe of frog,
Wool of bat and tongue of dog,
Adder's fork and blind-worm's sting,
Lizard's leg and howlet's wing,
For a charm of powerful trouble,
Like a hell-broth boil and bubble.
Double, double, toil and trouble;
Fire burn and cauldron bubble.
Scale of dragon, tooth of wolf,
Witches' mummy, maw and gulf
Of the ravin'd salt-sea shark,
Root of hemlock digg'd i' the dark,
Liver of blaspheming Jew,
Gall of goat, and slips of yew
Silver'd in the moon's eclipse,
Nose of Turk and Tartar's lips,
Finger of birth-strangled babe (30)
Ditch-deliver'd by a drab,
Make the gruel thick and slab:
Add thereto a tiger's chaudron,
For the ingredients of our cauldron.
Double, double, toil and trouble;
Fire burn and cauldron bubble.
Cool it with a baboon's blood,
Then the charm is firm and good.
O well done! I commend your pains;
And every one shall share i' the gains;
And now about the cauldron sing,
Live elves and fairies in a ring,
Enchanting all that you put in.
By the pricking of my thumbs,
Something wicked this way comes.
Open, locks,
Whoever knocks!
These labels were from my own interpretation of the chant.
They would look perfect labels for your vintage bottles or even as tags or any other craft.
==================
CUSTOM OPTIONS
==================
Any customization (with the content or images/graphics) may be done for an additional fee. Please send a convo prior making the purchase.
=========
PRINTING
=========
It is best to use a bright white heavy cardstock when printing, use NON-coated and NON-glossy.
For tips in cutting, visit my blog cutting guide and tips here:
http://pinkpapertrail.blogspot.com/2014/02/cutting-guide-and-tips.html
==========================
OTHER IMPORTANT NOTES
==========================
*This listing is for digital file only, NO actual print out or any tangible item will be shipped to you. PDF or jpeg files only.
**This sign should not be copied, replicated, or redistributed in any form. This is for personal use only.
***Please read my shop's policy before making any purchases:
https://www.etsy.com/shop/PinkPaperTrail/policy
If you have any concerns with any item in my shop, please do not hesitate to contact me.
****Due to different monitor and printer calibration and settings, what you see on your screen may not be the same as the ones you will able to print, there will always be a slight variation or difference in the colors. It is advised to do test prints first before printing and you may need to adjust your printer settings quality to be able to produce your desired output.