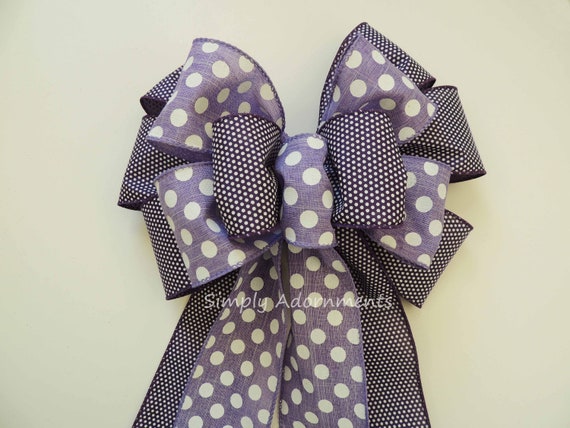 Purple Lavender Wreath Bow, Purple summer Wreath Bow, Purple Lavender White Dots bow, Polka dots Birthday Party decor Purple baby Shower Bow
By Simply Adornments
Product Info
Purple Lavender Wreath Bow, Purple summer Wreath Bow, Purple Lavender White Dots bow, Polka dots Birthday Party decor Purple baby Shower Bow
Each bow is made using two of 2.5" wired ribbons. This particular bow has 4 streamers with length measuring from the top of the bow to the end of its streamers. Please select the bow size and the bow style options before checking out.
This bow would add an awesome touch to decorations at any parties, receptions or home decorations. They are perfect additional decorations for wreaths, garlands, flower arrangements, flower bouquets, staircases, mantels, cake tables, gift tables, chairs, church pews, gift baskets, presents and many more places that you want to draw attention, as an interesting view or a special marked area.
Also, the wired-edged ribbon bows can be stored and re-used at the same, or other events, or even as gift bows since they are portable, and can be easily stored, reshaped.
NOTE:
* All of my bows are securely tied and finished with chenille stem for easy attachment.