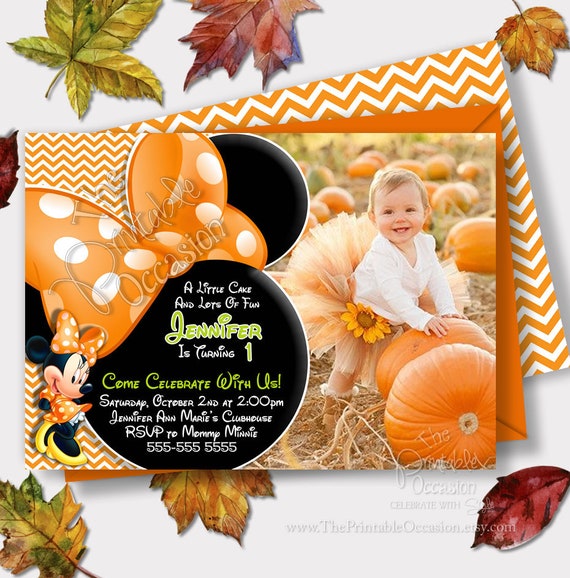 Autumn Mickey Mouse Birthday Invitation, Fall Mickey Mouse Photo Invitations, Halloween Invitations, Printable, Digital, Invitations
By The Printable Occasion
Product Info
AUTUMN HALLOWEEN MINNIE MOUSE BIRTHDAY PHOTO INVITATION
PRINTABLE DIGITAL FILE
✻*•.¸.•*•. CoMe InSiDe! iT's FuN InSiDE! .•*•.¸.•*✻
Do you have a big Minnie Mouse fan at home that's excited to have an autumn Minnie Mouse birthday party? Then look no further than this whimsically vibrant and playful invitation to help make their dreams come true! From orange to green and black, to a trendy orange chevron pattern, this adorable Minnie Mouse birthday invitation is sure to please your little mouse and kick off the party in style!
Once I receive all of the info requested below, will then create your card and send the 300dpi high resolution JPG FILE back to you via Etsy messaging (for proof of delivery). From there, you can quickly and easily download the file to your computer or flash drive and print as many copies as you'd like from home, local or online photo lab. (No printed materials will be mailed to you.)
TIP: Add glitter to your invitation or confetti in the envelope for a magical moment. What a festive first impression!
► ADDITIONAL INFORMATION ◄
• These cards are offered in 4x6 and 5x7 only.
• ONE REVISION is included within 14 days.
• These cards come as shown with no color, font or design modifications.
•••••··········································································
H O W · T O · O R D E R
Rush Service Option Available During Checkout
•••••··········································································
► 1.) ADD THIS ITEM TO YOUR SHOPPING CART and any add-on services or coordinating items mentioned below. Please add your details to the NOTES TO SELLER at checkout.
EXAMPLE - HOW TO PROVIDE INFO LINE BY LINE
• NO blank lines between text, NO extra dashes, NO bullets, etc
• Most cards will accommodate two names/ages on them
INCLUDE THE DESIGN OF THE CARD YOU'D LIKE
A Little Cake
And Lots Of Fun
Jennifer Is Turning 1
Saturday, December 2nd at 2:00pm
Jennifer's Clubhouse
123 Mickey Mouse Lane
RSVP Momkateer at 555-555-5555
Pizza And Ice Cream Will Be Served
Clothes Size 18mo / Shoes 2
POPULAR QUOTES
A Little Cake And Lots Of Fun Ava Is Turning 1
Oh Two-Dles! (or Oh Toodles!) Ava is Turning 2
A Little Cake And Fun With You Ava Is Turning 2
We Can Hardly Believe It's True Ava is Turning 2
A Little Cake And Fun With Me Ava Is Turning 3
Cake, Ice Cream and More! Ava is Turning 4
A Little Cake And Fun Galore Ava Is Turning 4
Meeska... Mooska... Ava Is Turning 5
Put On Your Ears It's Time For Cheers! Ava Is 5
Hot Dog Hot Dog Hot Diggity Dog! Ava Is Turning 6
PLEASE CHECK YOUR SPELLING & PUNCTUATION
I will ►paste the wording you provide directly onto the card◄ to ensure it's accuracy so please be sure and submit the wording exactly as you'd like it to view on the invitation. If you provide 'all caps' or no capitalization, that is what will appear on your card. -- Fonts shown in samples are NOT in all caps.
► 2.) PHOTO REQUIREMENTS FOR INVITATION
Please attach your UN-EDITED/UN-CROPPED Hi-RESOLUTION photo in the Etsy email system by clicking 'Attach Image' when sending a message (preferred) or email photo to PrintableOccasionOrders(at)gmail.com. I work with high resolution files that require large photos. Small photos, print screens or photos from social media will blur when enlarging to fit the template and print blurry as well.
Unfortunately, you won't be able to attach it in the shopping cart. (JPG format only. Links to photos will not be accepted) If you do not provide a photo before the proof is sent to you, you will then have to send it with your free round of revisions.
• Please do not send in a close-up photo of your child.
• Plushies/balloons need to be next to, or on, your child
• Photos that have the photographer's watermarks will not be accepted
• Photos with solid white (any solid color) backgrounds will not be accepted
• If there is a banner that goes over the photo, be sure to have lots of space above the child's head. Banners cannot be removed.
► 3.) ORDER TIME FRAME: You will receive your order via Etsy messaging typically within 24 hours (UNLESS the store is experiencing a high volume of orders or it's the weekend/holiday). But, in many cases, I can get to orders within a few hours after order placement. Keep in mind that some days out of the week are much busier than others, and this may ALSO create a delay.
By purchasing you are agreeing to my shop POLICIES http://etsy.me/216ktRZ
•••••·······································
A D D · ON · S E R V I C E S
•••••·······································
► 12 BUSINESS HOUR RUSH ORDER SERVICE http://etsy.me/1NoIHoa
► SAME DAY RUSH SERVICE http://etsy.me/1U9mBr5
► PDF FILE CONVERSION http://etsy.me/1Sits0d
This fee applies if you need a PDF file of your card OR if you need multiple cards on one sheet to save money on printing.
► ADD A 2nd INVITATION WITH THE SAME DESIGN - DISCOUNTED
If you are having a second party for family or friends with new party information, please purchase this listing. http://etsy.me/1Wiimtt
► ADDITIONAL REVISIONS http://etsy.me/1U9mI5Y
This includes edits to party content and swapping out the photo. Changing the design template, card size, or wording to accommodate a 2nd party are NOT considered a revision.
•••••··················································
C O O R D I N A T I N G · I T E M S
•••••··················································
► Matching Invites & Thank You Cards: http://etsy.me/2gF1zU4
► Envelope Mailing Labels: http://etsy.me/2gSbMdy
► Matching Party Printables: http://etsy.me/2fYlu1c
► Matching Party Decor Set: http://etsy.me/2yn8tHb
► All Coordinating Cards & Printables: http://etsy.me/2g9Vr5J
•••••··································································
E N V E L O P E S · A N D · M A T E R I A L S
•••••··································································
► WHERE TO FIND ENVELOPES
You can find envelopes at Office Max, Staples, Walmart, etc. Stationary stores have the colorful packs of envelopes I've noticed. You can also google '4x6 envelope', for instance, and a plethora of choices will appear and some websites offer free shipping.
Envelopes for 4x6 Size - Called A-6 4.75" x 6.5"
Envelopes for 5x7 Size - Called A-7 5.25" x 7.25"
BEST PLACE TO GET COLORFUL, INEXPENSIVE ENVELOPES!
http://www.invitationoutlet.com/blankenvelopes.html
► PAPER RECOMMENDATION
Use heavy weight premium photo paper in a soft/semi gloss or matte finish for brighter more vivid colors or cardstock for softer more muted colors.
•••••···································
T H E · F I N E · P R I N T
•••••···································
Please note all items are for PERSONAL USE ONLY. File sharing sharing, distributing, or selling the designs, or ANY elements within them is strictly prohibited. When purchasing a product you agree to use the designs for personal use only. Commercial use is not allowed. 17 U.S.C. 106(3), 17 U.S.C. §109(c). Many of the IMAGES AND all DESIGNS were created by The Printable Occasion and are protected under domestic and international copyright laws according to 17 U.S.C. Section 501. © The Printable Occasion. All Rights Reserved.
► THE PRINTABLE OCCASION IS ON FACEBOOK! Be sure and "Like" our page for exclusive offers, coupons and freebies only for fans AND share your party pics with everyone! I always love to see how The Printable Occasion Hostess Heroes use these adorable party supplies!
FACEBOOK http://www.facebook.com/ThePrintableOccasion
BLOG  http://theprintableoccasion.blogspot.com
INSTAGRAM  www.instagram.com/ThePrintableOccasion
PINTEREST  http://www.pinterest.com/MyDIYParty
Thank you for stopping by my store today!
I very much look forward to working with you!
✻´¨)
¸.•´¸.•*´¨) ¸.•*´¨)
(¸.•´ (¸.•´✻ Lauren
Every Occasion Is The Printable Occasion!