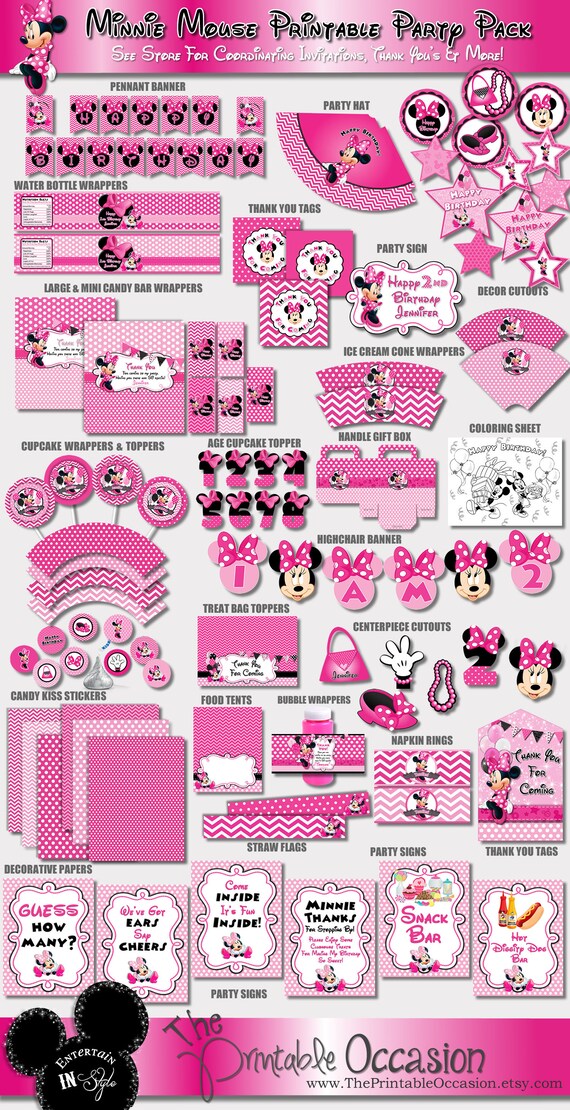 SAME DAY SVC Pink Minnie Mouse Party Decorations, Pink Chevron and Polka Dot Minnie Mouse Birthday Party Decorations, Pink Minnie Mouse
By The Printable Occasion
Product Info
Pink Chevron & Polka Dot Minnie Mouse PRINTABLE Party Pack
PRINTABLE DIGITAL FILES
I'm excited about my new Light Pink and Fuschia Chevron & Polka Dot Minnie Mouse Party Decorations collection! I've used the soft pink hues in both polka dot and chevron patterns for the best of both worlds and you might find a few pixie stars too! What a great way to Impress your birthday guests and your kids will love them too! All files are created as high resolution PDF DIGITAL FILES for printing on 8.5"x11" sheets that will be emailed to you via the email address you have linked to your Etsy account typically within 24 hours (in most cases UNLESS the store is experiencing a high volume of orders or it's the weekend/holiday. This time frame is not a guaranteed as some days out of the week are busier than others) after all customization has been received. These are SIMPLE to make and make such a great impression! Just open file, print, cut!
Because these files are digital, you can print as many copies as you'd like from home or a photo lab. (No printed materials will be shipped!) To open the PDF file, you will need Adobe Reader, which is a free download at adobe.com.
► ADDITIONAL INFORMATION ◄
• THIS PARTY PACK IS FOR ONE NAME ONLY
• All files are in ENGLISH and cannot be typeset in another language.
• All files come as shown with no color, font or design modifications.
► REVISIONS POLICY◄
No revisions are included with this item. Please be sure and double-check your spelling prior to submitting the information and include all customizations in your order notes. If any changes need to be made after the file has been started, or sent to you, you'll need to re-purchase the item. No exception.
►PINK CHEVRON INVITES & THANK YOU CARDS: http://etsy.me/2gGvJXd
►PINK CHEVRON PRINTABLES: http://etsy.me/2gsBHI2
►PINK POLKA DOT INVITES & THANK YOU CARDS: http://etsy.me/241GkPG
►PINK POLKA DOT MATCHING PRINTABLES: http://etsy.me/24iSSyR
►ENVELOPE & RETURN ADDRESS LABELS: http://etsy.me/2gSbMdy
▬▬▬▬▬▬▬▬▬▬▬▬▬▬▬▬▬▬▬▬▬▬▬▬▬▬▬▬▬▬▬▬▬▬▬
---------- ►►►WHAT IS INCLUDED IN THIS PARTY PACK◄◄◄ ----------
▬▬▬▬▬▬▬▬▬▬▬▬▬▬▬▬▬▬▬▬▬▬▬▬▬▬▬▬▬▬▬▬▬▬▬
This Minnie Mouse Birthday Party Pack includes the following files exactly as listed below with no changes other than the name and age customization described. Custom designs not listed below and color changes can not be made at this time.
● HAPPY BIRTHDAY BANNER AND MINNIE SPACERS
Two pennants/letters fit on an 8.5x11 sheet.) Just cut, add hole punches to either side and slip ribbon through tie pieces together with a bow.
► CLICK HERE TO ADD YOUR CHILD'S NAME http://etsy.me/2nSjXfJ
● CANDY KISS / REESES CUPS STICKERS
9 Candy Kiss / Reeses Stickers Designs (to use with a 3/4" circle craft punch)
● HERSHEY MINIATURES CANDY WRAPPERS
5 designs, 15 p/sheet, 'Happy Birthday'
● PERSONALIZED CANDY BAR WRAPPERS
"Thank You for coming to my party. Having you there made is SO special!"
Two candy wrappers come on one 8.5x11 sheet for printing and measure 6.12"W x 5.39"H each. The cut out Minnie wrapper will fit a 1.55oz Hershey's chocolate bar.
● PERSONALIZED WATER BOTTLE WRAPPERS
2 Designs, 9.9" length x 1.8" height, 4 p/sheet, 'Happy (age) Birthday (name)'
● PERSONALIZED BUBBLE WRAPPERS
• Created for the smaller 4oz bottles of bubbles (Party City, Target & Toys R Us sells them).
● PERSONALIZED CUPCAKE TOPPERS & WRAPPERS
Just apply topper to a small stick and poke into the top of the cupcake to decorate. You can cut and use them as a square shape as provided, or use 2" for the front topper and 2.5" or 3" craft circle (or scallop) punches (found at craft stores) to cut out the backers (recommended). Use scissors to cut out the wrappers.
• 12 - 2" Personalized Cupcake Toppers / Party Circles with name
• 6 - 2.5"-3" Designer Cupcake Backers that go behind personalized toppers
• 4 - Designer Cupcake Wrappers
• The child's age with Minnie ears and bow
● STRAW FLAGS / TOOTHPICK FLAGS
Fits standard size straws (not jumbo) and are cute on toothpicks.
● GIFT TAGS / THANK YOU FOR COMING TAGS
• 2.3" x 2.4" vertical 'Thank You For Coming' tags - 8 p/sheet
• 2" square (or use circle punch) 'Thank You For Coming' tags - 12 p/sheet
● FOOD TENTS / PLACE CARDS
4" x 5" folded tent cards and are approximately 4" x 2.5" when folded. 4 p/sheet. 2 Designs - Hand-write any note you wish
● PERSONALIZED MINNIE MOUSE SIGN: 'Happy (age) Birthday (name)
● 4 PARTY SIGNS:
• Hot Diggity Dog Bar
• Snack Bar
• Guess How Many?
• We've Got Ears Say Cheers
• Come Inside It's Fun Inside
• Minnie Thanks For Stopping By - Please Enjoy Some Clubhouse Treats For Making My Birthday So Sweet
● ICE CREAM WRAPPERS
• Sugar Cones, 2 designs 2 p/sheet
• Short Cones, 2 designs, 6 p/sheet
● NAPKIN RINGS
Wrap napkins, grouping of straws or sucker sticks or stick around a box of crayons for the goodie bag. You can use these for so many things to add that splash of color.
● PARTY CUTOUTS FOR CENTERPIECE OR DECORATION
• PERSONALIZED Purse
• Minnie Glove
• Minnie Shoe
• Minnie's Necklace
• Minnie Mouse Head
• 4 designs - 5" circles, 2 p/sheet
• Stars 2 designs, 1 p/sheet 'Happy Birthday'
• Stars, 3 p/sheet with Minnie Mouse
• Stars 3 designs, 3 p/sheet
● GOODIE BAG TOPPER 'Thank You For Coming', 7.2"x5" fits sandwich bags
● GIFT BOX: With Minnie Mouse 'Toodles'
● HIGH CHAIR BANNER: 'I am (age) with Minnie spacers
● PARTY HAT 'Happy Birthday'
● COORDINATING PAPERS: Printable papers in 6 designs
● COLORING PAGE: With Mickey & Minnie 'Happy Birthday'
▬▬▬▬▬▬▬▬▬▬▬▬▬▬▬▬▬▬▬▬▬▬▬▬▬▬▬▬▬▬▬▬▬▬▬
-------------------------- ►►►HOW TO ORDER◄◄◄ --------------------------
    RUSH SERVICE OPTION AVAILABLE DURING CHECKOUT
▬▬▬▬▬▬▬▬▬▬▬▬▬▬▬▬▬▬▬▬▬▬▬▬▬▬▬▬▬▬▬▬▬▬▬
►► 1.) ADD THIS ITEM TO YOUR SHOPPING CART
►► 2.) DURING CHECKOUT, WRITE THE FOLLOWING IN THE "NOTE TO SELLER" BOX (while in the shopping cart) TO PREVENT DELAYS OR CANCELLATION:
• Name (1 name only - no middle names due to limited spacing)
• AGE (1 age only)
PLEASE CHECK YOUR SPELLING AND PUNCTUATION
I will ►paste the wording you provide◄ to ensure it's accuracy so please be sure and submit the wording exactly as you'd like it to view on the invitation. Fonts shown in samples are NOT in all caps.
► 3.) ORDER TIME FRAME: You will receive your order via Etsy messaging typically within 24 hours (UNLESS the store is experiencing a high volume of orders or it's the weekend/holiday) AFTER all customization has been received. But, in many cases, I can get to orders within a few hours after order placement. Keep in mind that some days out of the week are much busier than others, and this may ALSO create a delay.
By purchasing you are agreeing to my shop POLICIES http://etsy.me/216ktRZ
▬▬▬▬▬▬▬▬▬▬▬▬▬▬▬▬▬▬▬▬▬▬▬▬▬▬▬▬▬▬▬▬▬▬▬
- ►►► MATERIALS YOU WILL NEED IF PRINTING FROM HOME ◄◄◄ -
▬▬▬▬▬▬▬▬▬▬▬▬▬▬▬▬▬▬▬▬▬▬▬▬▬▬▬▬▬▬▬▬▬▬▬
• Printer
• Paper options listed below
• Scissors or paper cutter
• Wood dowels/skewers for centerpiece signs
• Tape, glue/glue fun or you can use a tape runner or double-sided tape
• Circle Punches for 2" and 2.5" Party Circles
• Circle Punch for 3/4" cand kiss stickers
• Ribbon for signs, banner, pretty tie/bows for bubble bottles, etc
• Lollipop sticks or black coffee stirrer straws for cupcake toppers (Party City has these)
▬▬▬▬▬▬▬▬▬▬▬▬▬▬▬▬▬▬▬▬▬▬▬▬▬▬▬▬▬▬▬▬▬▬▬
------------------------ ►►► THE FINE PRINT ◄◄◄ ---------------------------
▬▬▬▬▬▬▬▬▬▬▬▬▬▬▬▬▬▬▬▬▬▬▬▬▬▬▬▬▬▬▬▬▬▬▬
Please note all items are for PERSONAL USE ONLY. File sharing sharing, distributing, or selling the designs, or ANY elements within them, in any other format including templates, websites, brochures, advertising or on any products is strictly prohibited. When purchasing a product you agree to use the designs for personal use only. Commercial use is not allowed. 17 U.S.C. 106(3), 17 U.S.C. §109(c)
IMAGES AND DESIGNS were created by The Printable Occasion and are protected under domestic and international copyright laws (aside from licensed character images or trademarks) according to 17 U.S.C. Section 501. Any licensed images of characters used in the designs are free and not being sold. Character copyright is held by original owner. (Digitally reproduced or interpreted licensed characters cannot be shared, distributed or sold and limited rights are not transferable to anyone for any reason.) Designs are intended for ONE TIME use only. Your purchase is for the labor and time involved in creating your child's customizations.
© The Printable Occasion. All Rights Reserved.
Thank you for visiting my shoppe today!
✻´¨)
¸.•´¸.•*´¨) ¸.•*´¨)
(¸.•´ (¸.•´✻
printable party pack, printable party decorations, printable minnie mouse party pack, printable digital files diy you print pink chevron minnie mouse, chevron minnie mouse, party pack, diy party pack, minnie mouse party pack, cupcake toppers and wrappers, candy bar wrappers, water bottle wrappers, party signs, party circles, pennant birthday banner, gift tags, thank you tags, high chair highchair banner, banner, personalized, custom, bag toppers, food tents, straw flags, candy kiss stickers, miniature candy bar wrappers, balloon stickers, gift boxes, bubble wrappers, door sign, centerpiece cutouts, food labels, napkin rings, party decor, pink minnie mouse, chevron minnie mouse, minnie mouse party pack, digital download, minnie mouse polka dot, pink polka dot party pack, pink polka dot and chevron birthday party decor