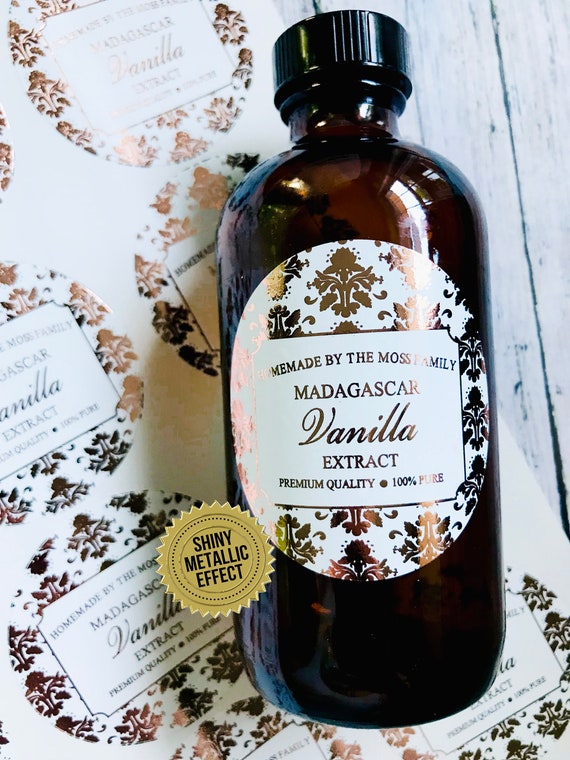 WATERPROOF Vanilla Extract labels - Homemade Vanilla Extract Labels - Damask ROSE GOLD Vanilla Extract bottle labels - Madagascar - Tahitian
By Littlebeane Boutique
Product Info
** THIS LISTING IS FOR LABELS ONLY... BOTTLE IS A PROP TO SHOW HOW TO USE THEM!
These WATERPROOF Labels done in Metallic Rose Gold ( other colors available) are perfect for labeling your homemade Vanilla Extract. These are priced per set and each set has 12 stickers that are 2 1/2" round ....please make sure this size label fits your bottle ( measure out a 2 1/2" diameter circle on a piece of paper to make sure it fits correctly.. bottles come in so many shapes and sizes, you want to make sure it fits around correctly)..
You can keep the wording I have or you can customize it ! These stickers are printed on HIGH QUALITY LABELSTOCK !
*please send all your custom personalized information along with your payment.
Waterproof Labels .. they are waterproof.... They can be hand washed... of course will all things.
they are not indestructable.. so still be gentle with them.. and do not use harsh abrasives or anything..... still wash gently to make them last as long as possible.

WATERPROOF LABELS:
a durable material made to withstand
outdoor / water conditions and a wide variety of
environments! they do not tear easily...
these can withstand water....
detergents/soaps containing bleach could also
fade or change the colors,
so they are not recommended.
please remember... these labels will last alot
longer than your average label.. but they are
not industructable... thank you!
Customer Service is very important to me. If you have a question or concern, please email me at: [email protected] yahoo.com
LB 2021