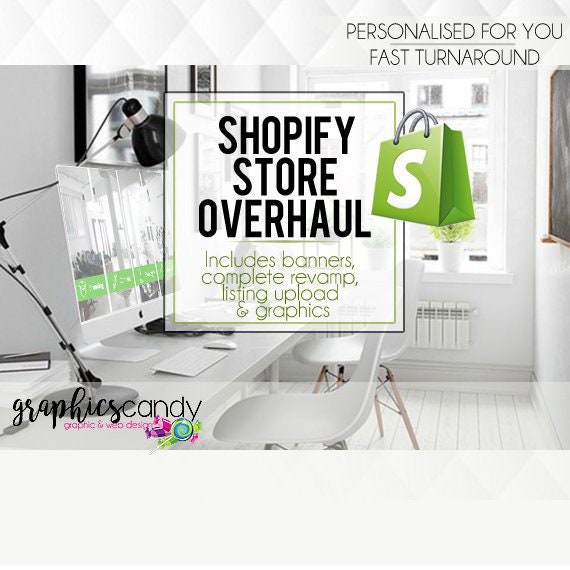 Product Info
This listing is for the complete revamp of your existing Shopify Store using a Free theme from Shopify. This listing is for a REVAMP not for installation of a new shop, it is presumed that you have current products uploaded and a current theme installed.
You can find samples of my work in a fully live store here:
https://www.sweetsheikhboutique.com
https://berriapothecaryshoppe.com
https://www.mlmmarketingconcept.com
https://beautiful-bows-boutique.myshopify.com
>>>>>>>>>>>>>>>>>
WHAT WILL I GET?
>>>>>>>>>>>>>>>>>
I will revamp your shopify store by uploading and customising any of the free shopify templates to your colour scheme and requirements, install new pages, add collections or menu's if you need any, rearrange your shop, upload up to a limit of 10 shop items (you can add more products for a small additional price) complete with descriptions, images and links to appropriate collections. I will only upload the About Us, Contact Us, and Our Mission (or whatever you'd like to call your home page) pages with information you provide me with and add Social Media links. I will also link all relevant files to the correct places for you so your website looks professional and works seamlessly.
You will have a maximum of 5 website revisions before additional revision fees are incurred. A revision is considered something such as layout or colour changes, an entire new theme once the first has been worked ion is NOT considered a revision. Revision fees are reasonable and I will remind you when you are nearing your maximum. This is necessary to prevent endless changes being made and to keep my fees reasonable.
This listing does NOT include HTML or CSS coding or a custom designed Shopify theme, existing free themes or purchased themes will be used. Some coding manipulation may be necessary to properly install your theme and this IS included.
Your listing does NOT include a logo, any stock images, styled stock images or product images of any kind. You must supply these for me to make sliders and upload your products. It DOES include graphics provided you supply images for me to use.
I will NOT select products for you to sell from drop ship companies, you must provide me with links for these.
I will NOT write any information about your personal life, about us, business, blog, products that you do not supply me with.
I will NOT choose your colours or fonts for you. Fonts for themes are limited and I can give you a list of which are available for your theme for you to choose.
Please note that although all due care is taken and your website is tested by me to make sure it is operating correctly, it is YOUR responsibility to check your shop listings for sale functionality as I am unable to purchase items to do so.
** PLEASE NOTE THIS IS A DESIGN SERVICE ONLY! YOU WILL NOT RECEIVE ANY PHYSICAL GOODS.**
>>>>>>>>>>>>>>>>>>>>>>>
WHAT IS NOT INCLUDED
(What do I need to provide)
I will need for you to provide me with all the following:
1. Ten additional products, their descriptions and images along with any variation information necessary if required.
2. One chosen free theme from Shopify.
3. The categories you want to appear in your menu.
4. Any subcategories (drop downs) you want to appear in your menu.
3. An established colour palette. You can choose 2 - 5 colours as you like that I will use to match your website.
4. All your page info (Contact Us, About Us, Refunds & Exchanges, Shipping) I will not edit or reword these, you must supply me with this information as you want it to appear.
5. All links to social media you want included.
6. Any and all blog entries you may want.
7. A list of payment methods you will accept for the shopping cart.
8. Shipping preferences (Shipping US only or Internationally)
9. Shipping rate info (Flat rate, price based or calculated, I will need weights for all products if you want to use calculated. If using price based I will need the price ranges upper and lower for each rate offered)
>>>>>>>>>>>>>>>>>>>>
HOW DOES IT WORK?
>>>>>>>>>>>>>>>>>>>>
Once you purchase this listing I will contact you with a small design brief to get a feel for what you need. I will send you a link to the Shopify themes to select one free of charge. Once I install your content I can give you previews of other themes for layout but not once your colour scheme is selected and implemented.
Once you are happy with your chosen theme I will install it, upload the remaining content, arrange all your colours as desired and link all files to appropriate menus. I will check all links and install your first 10 listings free of charge. This will include the addition of filters to your photographs for a professional look. You may include a maximum of 2 images per listing free of charge. Filters once chosen will be applied to all your images for cohesion, you may not select different filters for each item.
>>>>>>>>>>>>>>>>>>>
TURNAROUND TIME:
>>>>>>>>>>>>>>>>>>>
Turnaround time, depending on your response time, is currently 2-3 days. This is depending on the number of changes you might have and your response time. Should you need your shop designed and delivered the same day you will need to pay an additional rush fee of $50 for me to prioritise your job.
You will need to respond to me rapidly and supply me with all the information I need to complete the job in the set timeframe. Your failure to supply me with images, product info, page info etc. will result in the website taking longer to finish. Provided I have ALL necessary information I can turn around a website within 24 hours for you.
>>>>>>>>>>>>>>>>>>>>>>>>>>>>>>>>>>>
OPTIONAL EXTRAS & CUSTOM WORK:
>>>>>>>>>>>>>>>>>>>>>>>>>>>>>>>>>>>
For a small additional fee I can customise your social media icons and banners to match your new Shopify store or design business cards and packaging. Contact me for a package deal.
>>>>>>>>>>>>>>>>>>>>>>>>>>>>>
PRINTING RECOMMENDATIONS
>>>>>>>>>>>>>>>>>>>>>>>>>>>>>
If you include any printable items in your purchase (such as packaging) I recommend these items be printed on a laser printer for optimum quality. Some of the items listed will need to be printed onto card stock, I recommend 250gsm. For a really retro / antique look you can print onto cream coloured cardstock.
>>>>>>>>>>>>>>
TERMS OF USE
>>>>>>>>>>>>>>
My designs MAY NOT be resold in any form, printed or digital format or used for mass production.
These are for your use only and not to be shared with friends, family or acquaintances, please.
★★COPYRIGHT NOTICE★★
Please note that you are paying for a creative service and the time spent designing and personalizing your store with personal information and/or photos. I DO NOT SELL or claim ownership over any character clipart or graphics used that I do not create personally; they belong to their respective copyright holders. For copyright reasons, any licensed graphics cannot be included in your web graphics or logo design but may be included in your listings if they are part of your product.
Please note this is a OOAK custom made order. No others will be made the same.