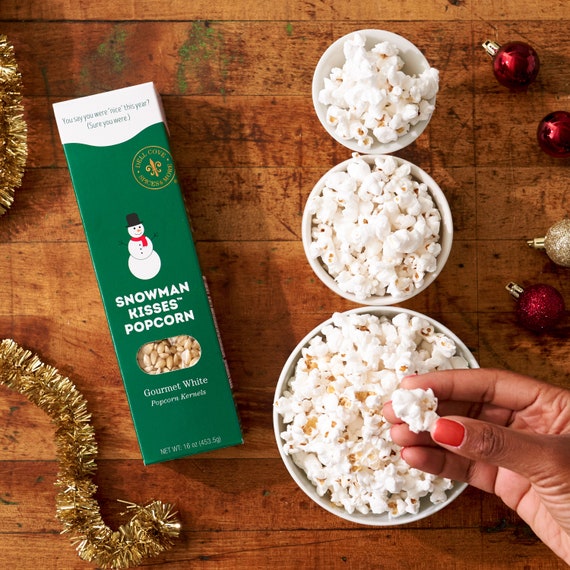 Custom Xmas Stocking Stuffer Gift, Snowman Kisses hulless popcorn kernels for Christmas movie employee gift idea
By Dell Cove Spice Co
Product Info
For friends and family on Santa's nice list, tuck some Dell Cove® Snowman Kisses™ popcorn in their stocking. After all, Santa told me you've been good this year. (I told him it was just lack of opportunity.) These gourmet white popcorn kernels are grown by small family farmers here in the Midwest, and make a deliciously fun holiday gift for all ages. This hulless popcorn is small, tender and pops with little-to-no hull. Make a batch and you're ready for movie night!
The box has a blank gift tag printed on one side, making it an easy gift. A fun, delicious and unique holiday gift - and perfect for teacher and employee gifts!
SIZE: 1 pound of kernels. Box size is 8.75" x 2.5" x 2". Makes approximately 13 servings per package, or 16 quarts (64 cups) of popped popcorn.
INGREDIENTS: Sustainably grown popcorn kernels. GLUTEN FREE. NON-GMO. VEGAN.
SHELF LIFE: 5 years from purchase
CASE PACK: Buy in bulk and receive 6 Christmas Coal 1 lb boxes. Comes with free shipping!
OPTIONAL ADD ON:
Add a silicone popcorn popper to your gift set to make it easier for dad to make popcorn at home.
Inspired by movie marathons and midnight snacks, our collapsible popcorn bowl provides the immediate satisfaction of microwave popcorn in an eco-friendly, waste-free format.
Our popcorn popper doesn't even require the use of oil, and can easily be accompanied by spices or flavors for unique recipes. Perfect way to pop Dell Cove® popcorn kernels!
This popper is made with premium, food-grade silicone that is 100% BPA-free and LFGB certified, which exceeds the federal FDA standards of food safety. This popcorn popper pops 9+ cups of popcorn — the perfect amount of popcorn for two people (and hey, it's always easy to make more). MICROWAVE & DISHWASHER-SAFE.
Packaging is recyclable. Get more information about our recycling program here: https://www.dellcovespices.com/pages/recycle
© 2021 Dell Cove Spices & More Co.® "Snowman Kisses" popcorn is trademarked by Dell Cove Spices & More Co.® All Rights Reserved.