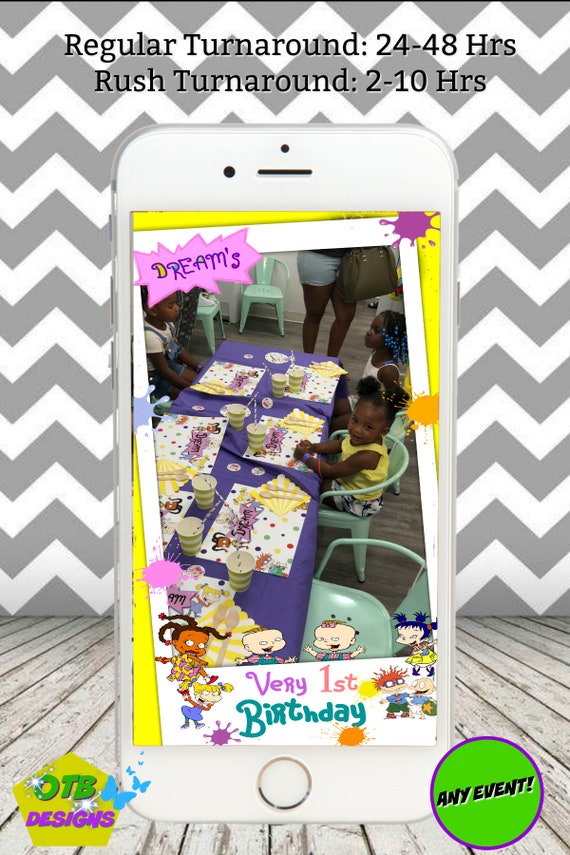 Product Info
Having a Mickey Mouse themed birthday? What an awesome way to create wonderful memories with Snapchat Geofilters. No need to have photo booths any more as your guest can take an instant selfie with your special day branded with a customized Geofilter. These are PRE-MADE filters.
↓ PLEASE READ ITEM DETAILS TO KNOW WHAT YOU ARE BUYING ↓
Within 48 hours of purchasing the geofilter, I will e-mail you a .png file that you can directly upload to Snapchat OR choose the option to have it uploaded for you.
*PLEASE NOTE: Uploading your geofilter to Snapchat is NOT INCLUDED; Unless you choose that option.* (Snapchat takes about one business day to approve filters.)
WHERE DO I UPLOAD MY FILTER?
You can upload your own geofilter here under "use your own": https://geofilters.snapchat.com/
WHAT ARE SNAPCHAT FEES?
Snapchat fees vary by time/date/location and the duration you want your filter. You will need to check yourself if you are happy with the cost here as Pretty Filters only supply designs for you to use it with Snapchat platform. https://www.snapchat.com/geofilters
In "Notes to Seller" at checkout please include the following:
1. E-mail address (where I will send the filter to, if different from etsy account e-mail)
2. Name of birthday girl or boy
3. Age of birthday girl or boy (optional*)
(If you choose to have it uploaded for you)
4. Address of Party
5. Date & time of Party.
*For a CUSTOM non pre-made filter design please select the "Customization" tab & specify*
*Geofilter guidelines (hashtags, full names & social media usernames are not allowed*):
https://geofilters.snapchat.com/submission-guidelines
*Geofilter FAQs:
https://support.snapchat.com/en-US/article/geofilter-faq
This geofilter is for personal use only. ("A Personal Geofilter is one that doesn't include any branding, business marks/names, or logos, and doesn't promote a business or a brand.) Please do not Edit, duplicate or resell. All sales are final.
If you have any questions, feel free to ask. Thank you so much for your support!