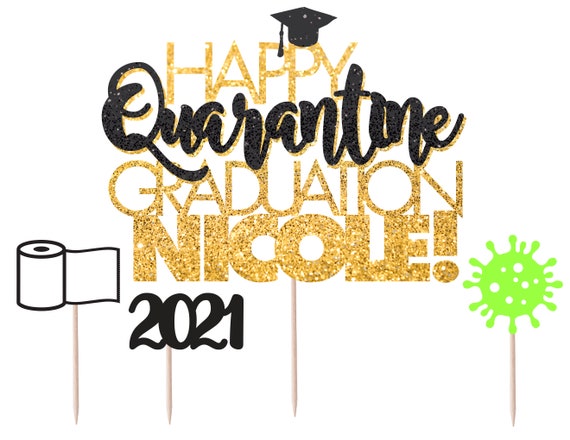 Custom Graduation Cake Topper, Class of 2021 Banner, Quarantine Graduation, Graduation Decoration 2021, Custom Graduation, Graduation Party
By PaperlyPress
Product Info
Celebrating the quarantined class of 2021? This sparkly personalized graduation cake topper is the perfect addition to your celebration to make the quarantine grad feel special.
Custom graduation cake topper works great for preschool graduations, high school graduations, college graduations - any graduation, really!
We love to customize things, and can easily swap out the gold and black glitter for any glitter colors seen in the third listing photo (school colors would be so fun!).
Custom graduation cake topper measures 5.4" wide x 4" tall. Smaller toilet paper and Coronavirus (Covid-19) cupcake toppers measure about 2" wide with varying heights.
Class of 2021 Decor, Graduation Party, Class of 2021, Graduation Cake, Graduation Party Decorations, Quarantine Graduation, Quarantine Party, Graduation Cake Topper, Congrats Cake Topper, Congratulations Class of 2021, Cake Topper, Class of 2021 Banner, Quarantine Cake Topper, Personalized Graduation Party, Grad Cake Topper, Quarantine Gift, Quarantine Grad Decoration, Grad Decor, Quarantine Graduation Candle, 2021 Banner, Eat Cake and Graduate, Graduation Banner, Quarantine Graduation Decoration 2021, Graduation Gift, Grad Cake, Quarantine, Cake Topper Graduation, Quarantine Graduation Decor Class, 2021 Graduation Banner, Quarantine Grad Cake Topper, Custom Cake Topper, Quarantine Candle, Personalized Cake Topper, Custom Cake, 2021 Graduation Decoration, Graduation Banner 2021, Graduation Decor Class