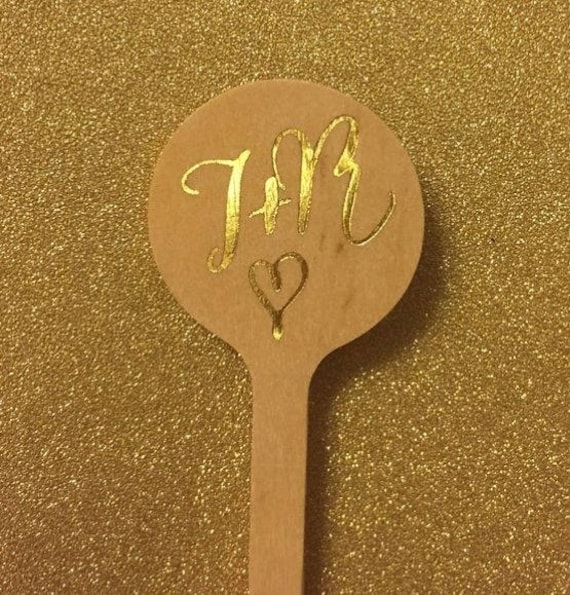 Product Info
These drink stirrers are perfect for your next party or wedding. The foil is sure to catch some eyes with it's darling uniqueness!
They are approximately 6" long. Available in round and rectangle.
I can custom design an image for you. For the foil process crisp images are better and fine lines tend to blur out. If you have a design in mind already or one you've created you can definitely try, but please message me first to confirm that we can use it. Files must be in black and white only and preferably in a high resolution file (at least 300 dpi) If you need help with this please don't hesitate to ask.
HOW THE FOILING PROCESS WORKS:
1. An image is custom designed just for you.
2. A "plate" is created out of etched magnesium.
3. A machine that uses heat and pressure then "stamps" the image onto the stirrers.
4. I ship them out and YOU get to enjoy them!
HOW TO ORDER:
1. Choose 1 Side with 1 image printed, 2 sides with 1 image printed, or 2 sides with 2 images printed (one per side)
2. Choose Foil Color (only one color per set please)
3. Thing to make sure to put in the "NOTES TO SELLER" section when checking out.
-Round or Rectangle Stirrers
-Design details (fonts, images, ideas, etc)
- Date needed by
- Any other useful information