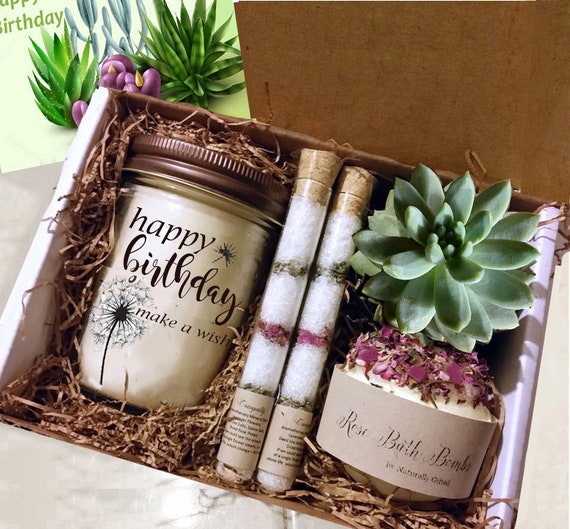 Custom Birthday Gift Box, Gift Ideas, Happy Birthday Gift Box, Happy Birthday Gift Basket, Birthday Gifts Ideas, Birthday Gifts For Her
By Naturally Gifted
Product Info
Every year, when a special birthday comes up, we like to show how grateful we are that all those years ago, something great happened: they were born.
Whether it's a birthday gift for Mom, sister or friend it will be an extra special relaxation present.
PLEASE CHOOSE FROM THE OPTION LIST:
OPTION 1- 8 oz Candle, Succulent, Bath Bomb & Salt Tubes (AS SHOWN IN PICTURE)
OPtion 2- 16 oz Candle, Succulent, Bath Bomb & Salt Tubes
OPTION 3 8 oz Candle, Succulent & SHEA BUTTER ( choose lavender, coconut, vanilla or grapefruit)
- Personalized greeting card from You
We offer a personalized box top.Please include the name you wish on the box top :))This gift box includes:
-
PLEASE NOTE - BE SURE TO INCLUDE YOUR GIFT MESSAGE IN THE MESSAGE BOX AT CHECKOUT
We ship directly to your loved one & your personal greeting.
NOTE: Please include your personal greeting in the message box at checkout and be sure to update the ship to address appropriately
Birthday Gift for her, Friend Gift, Birthday Gift , Happy Birthday Gift, Birth
Our Gift Box is a perfect gift as is or for that extra special touch add a gift card!
NOTE: Please include your personal greeting in the message box at checkout and be sure to update the ship to address appropriately
Birthday Gift for her, Friend Gift, Birthday Gift , Happy Birthday Gift, Birthday gift box, birthday gift basket