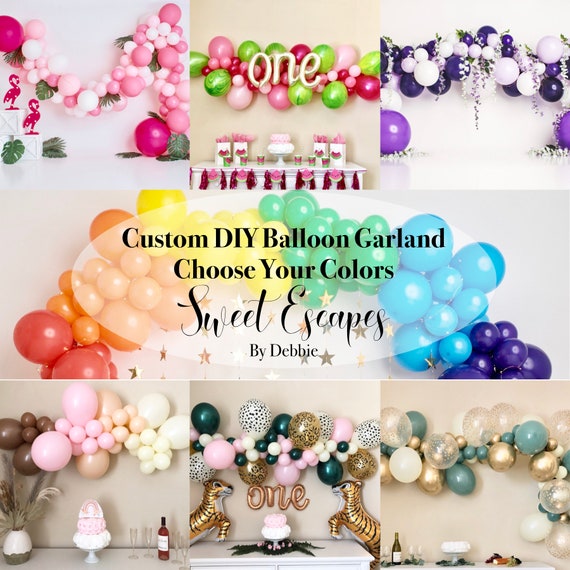 Custom Balloon Garland DIY Kit~Pick Your Colors~Choose from 106 Different Colors~Six Lengths Available~Balloon Arch Kit~Custom Balloon Kit
By Sweet Escapes By Debbie
Product Info
Welcome to Sweet Escapes By Debbie
Wow!! Now you can customize your DIY garland kit to the colors that fit your party perfectly! These garlands are the pop that your party needs! Just choose what colors you would like from the color chart. You can pick a printed balloon to add that extra special look or just the colored latex. When checking out just leave a note in the notes to seller section with your color choices.
Making your own backdrop has never been easier! With this complete kit you can make a beautiful statement piece that will wow your guests! The 4, 6 or 8 foot garland is the perfect size to put over your dessert or present table or pick a 10, 12 or 14 foot one to really make a statement! You can hang it as an arch, in a straight line or drape it on a table.
Here's what's included in each DIY kit:
~ An assortment of 11 inch latex balloons
~ An assortment of 5 inch latex balloons
~ If choosing 16 inch balloons you will get 1 for 4 foot garland, 2 for 6-8 foot garland, 3 for 10 foot and 4 for 12-14 foot.
~ (1) Balloon decorating strip
~ (1) Dual action hand pump (if purchased, recommended)
~ Easy to follow step by step instructions.
~ It will take you approximately 45 minutes to assemble a 6-8 foot garland. For the 10-14 foot garlands it will take about an hour and a half. You can assemble it 1-2 days in advance. All balloons ship flat and deflated.
COLORS/SIZES
Available in 5 and 11 inch:
1. Pastel Matte Pink
2. Pink
3. Bubblegum
4. Pearl Pink
5. Rose
6. Pearl Magenta
7. Red
8. Pearl Ruby Red
9. Sangria
10. Pearl Burgundy
11. Rosewood
12. Rose Gold
13. Pearl Peach
14. Blush
15. Coral
16. Orange
17. Pearl Mandarin Orange
18. Burnt Orange
19. Goldenrod
20. Citrine Yellow
21. Yellow
22. Pearl Lemon
23. Pastel Matte Yellow
24. Mustard
25. Pastel Matte Mint
26. Pearl Mint
27. Spring Green
28. Pearl Lime Green
29. Sage Green
30. Evergreen
31. Pearl Emerald (Not available)
32. Pearl Forest
33. Pearl Teal (Not available)
34. Caribbean Blue
35. Tropical Teal
36. Fashion Blue
37. Pearl Light Blue
38. Pastel Matte Blue
39. Blue Slate
40. Pearl Sapphire Blue
41. Navy
42. Pearl Navy
43. Purple Violet
44. Pearl Quartz Purple
45. Pearl Lavender
46. Canyon Rose
47. Pastel Matte Lilac
48. Gray
49. White
50. Pearl White
51. Black
52. Chocolate Brown
53. Mocha
54. Gold
55. Greige
56. Graphite
57. Silver
58. Clear
59. Pearl Ivory
60. Ivory Silk
61. Eucalyptus
62. Empower Mint
63. Sea Glass
64. Cameo
65. White Sand
66. Stone
67. Cocoa
68. Chrome Gold
Available in 11 inch only
69. Gold Confetti Look
70. Silver Confetti Look
71. Clear with Palm Leaves
73. Black with Gold Polka Dots
74. Clear with Gold Heart
75. Black Marble
76. Purple/Pink/Blue Marble
77. Green Marble
78. Blue Marble
79. Clear with White Polka Dots
80. Chrome Gold
81. Chrome Silver
82. Chrome Mauve
83. Chrome Green
84. Chrome Blue
85. Chrome Purple
Available in 16 inch only (2-4 per garland)
86. Pink
87. Hot Pink
88. Rose Gold
89. Burgundy
90. Red
91. Coral (Not Available)
92. Blush
93. Yellow
94. Mint Green
95. Pearl Forest Green
96. Pearl Sapphire Blue
97. Light Blue
98. Tropical Teal
99. Lavender
100. Clear
101. Gold
102. Silver
103. Black
104. Pearl White
105. White
106. Brown