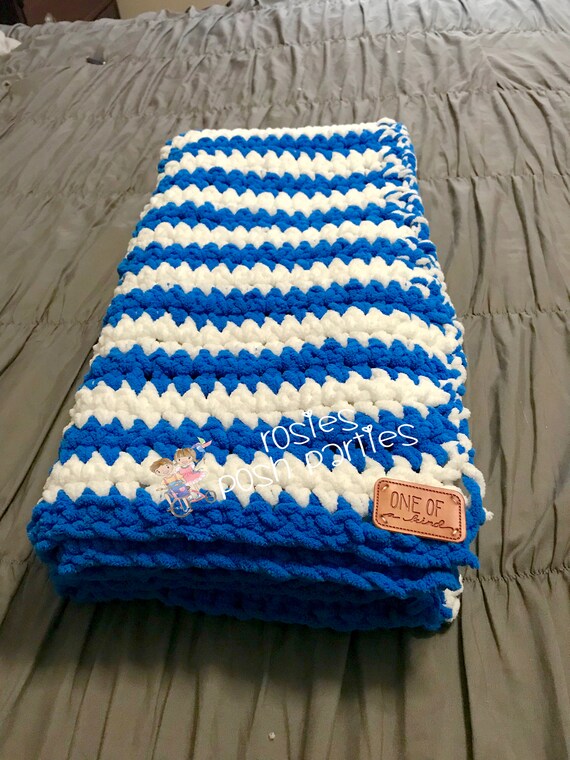 Crochet Baby blanket, Baseball Game Day Blanket, Handmade Blanket, Crochet Blanket, Baby Blanket Baseball Blanket Newborn Blanket Baby Gift
By Rosie's Posh Parties
Product Info
COVID-19 ANNOUNCEMENT
My shop is open for business as long as USPS/UPS/FEDEX are delivering to your homes! Processing times vary! Message me with any questions you may have, we are here to help! Thanks for your continued support! May we all be safe!
~~~~~~~~~~~~~~~~~~~~~~~~~~~~~~~~~~
Crochet Baby Blanket, Baseball Blanket, Game Day Blanket, Baseball Baby Blanket, Baseball Game Blanket, Newborn Photoshoot Blanket, Sports Blanket, Baseball Blanket, Football Blanket, Basketball Blanket, Baby Shower Gift, Receiving Blanket, Bernat Blanket, Warm Blanket, Soft Blanket
This will be the warmest handmade blanket a baby can own! I have personally gifted this to all the new mommies in my family and ALL of them have loved them. I make them a little larger than a "standard" size baby blanket because all Mommies always comment how they love the blanket and how soft it is.
This is the PERFECT baby shower gift for any sports fan. You may take your little one with this thick blanket and not worry about them being cold.
Blanket is made with Bernat Baby Yarn. Choose from 2 colors. Contact me to confirm your colors are available. Let me know what sports team you want, and the 2 colors you want used.
MEASUREMENTS
40"x46"
You will receive the blanket folded and wrapped with the same 2 color satin ribbon used on the blanket.
Sports ball will also be included. Its crafted on wood, same quality I use on my centerpieces. Tag is sewn on there, and will phrase will vary. A cute phrase will always be used!
This blanket will be made with a lot of love! I enjoy making these so much! Feeling its warmth and softness while making it relaxes me!